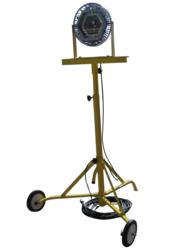 With a wheeled tripod, this high powered LED light can be positioned to accommodate even the largest confined space tanks and other hazardous location areas
Kemp, TX (Vocus/PRWEB) March 16, 2011
The Magnalight EPL-TP-1x150LED-100 tripod mounted explosion proof LED light combines the practicality and convenience of an adjustable wheeled tripod with the power and reliability of LED lighting technology. A 16 inch diameter LED light head producing 10,000 lumens of light in a wide flood pattern is mounted atop a wheeled tripod constructed of non sparking aluminum. This tripod can be collapsed to three feet and extended to eight feet while wheels on two of the three tripod feet allow easy maneuvering of the entire unit from one area to another.
The Led light head can be adjusted through 360 degrees of rotation and 90 degree of tilt and has 100 feet of SOOW explosion proof cord included, providing plenty of length for access to outlets outside the hazardous area if desired. This unit's 16 inch diameter LED light head is sized for easily passing through most standard sized manholes and can be removed from the tripod, the tripod collapsed, the legs folded and all the parts passed through a manhole and the unit reassembled once inside. This tripod mounted light can be run from multiple voltages ranging from 120VAC to 277VAC without the need for special transformers or ballasts. The LEDs used in this unit are rated at 60,000 hours of life, running far longer and cooler than comparable HID or halogen lamps, aiding in this lamps suitability for use in hazardous locations. This explosion proof lighting unit is rated Class 1 Div 1, Class 1 Div 2, Groups A, B, C, and D and draws only 150 watts while producing 10,000 lumens of effective bright light in a wide flood pattern.
"With a wheeled tripod, this high powered LED light can be positioned to accommodate even the largest confined space tanks and other hazardous location areas," said Rob Bresnahan with Larson Electronics' magnalight.com. Operators can elevate the explosion proof light to cover a broader area or lower it to meet physical area constraints. This hazardous location LED light has coverage comparable to a 400 watt metal halide with a lifespan of at least 60,000 hours and extremely high vibration resistance. This LED light is really well suited for extreme environment applications."
Larson Electronics' Magnalight.com carries an extensive line of explosion proof LED lights, hazardous location lights, intrinsically safe LED lights, portable explosion proof lights and intrinsically safe LED flashlights. Larson Electronics announced that its Magnalight brand explosion proof lighting will co-sponsor a Paintsquare.com webinar about confined space safety. The webinar will describe regulatory requirements and accepted industry practice in entering confined spaces and conducting surface preparation and coating work inside them. Larson Electronics manufactures a wide range of explosion proof lighting for confined space applications. You can view Larson Electronics' entire Magnalight line of explosion proof lighting at Magnalight.com. Magnalight can be reached directly by calling toll free, 1-800-369-6671 or 1-214-616-6180 for international inquiries.
# # #