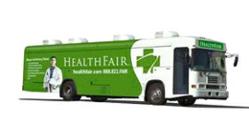 (Vocus/PRWEB) March 21, 2011
HealthFair is proud to be powering health screenings for Florida's Natural Growers' employees. The two companies have been collaborating for several years to address disease prevention. Florida's Natural Growers is a Cooperative of Citrus Growers located in Lake Wales, Florida. First founded in 1933, the Cooperative's flagship Brand is Florida's Natural®, the only national brand of Not-From-Concentrate orange juice that is squeezed from Florida oranges and never imported. The Company's commitment to healthy living includes a decades old employee wellness initiative. This year's theme, Healthopoly, encourages the company's employees to not "play games with their health".
HealthFair's confidential health screenings for employees and spouses are covered by Florida's Natural health insurance plan's available annual wellness benefit. The screening program offers an extensive combination of tests including advanced screenings for heart attack, stroke, aneurysm, cancer and more. Screening results are provided to participants at their annual company health fair where they are able to speak with several local physicians about their tests.
"After conferring with the physicians at our Health Fair, each employee will know what they need to work on. We will then provide those interested with the information and tools to increase exercise, lower blood sugar or cholesterol with diet and weight management," said Suzi Mills, RN, Occupational Health Nurse at Florida's Natural Growers.
HealthFair President Terry Diaz points out that the tests and screenings offered aboard the HealthFair bus help reinforce that early detection saves lives. "We've screened more than 500,000 people in the past 10 years, and were able to detect abnormalities in almost 25% of the people we tested," says Diaz. "The good news is that we can save lives with early detection and lifestyle changes."
Based in Orlando, Florida, HealthFair has been the national leader in mobile medical screening s for the past 10 years. Our mission is to save lives by providing quality, affordable, and accessible health screenings to communities, corporations and hospitals throughout the United States. Our mobile screening clinics are Joint Commission certified for excellence and offer client employees superior privacy, comfort, and convenience via work site testing.
By offering access to non-invasive, advanced imaging technologies at an affordable price, HealthFair empowers people to take control of their cardiovascular, breast, and bone health. HealthFair is now offering 3D state-of-the-art whole breast ultrasound testing to companies to address early detection of breast cancer.
The response from Florida's Natural Growers to this new program has demonstrated the importance of making this an important part of employee testing. "More than 80 employees of Florida's Natural were tested using the new breast ultrasound technology offered by Healthfair. This leading technology is convenient, fast, and accurate. According to a study by the American College of Radiology, ultrasound combined with mammography increases the chance of breast cancer detection by 28 percent. We are so excited to be able to offer it to our employees," said Susan Langley, Director of Human Resources.
# # #