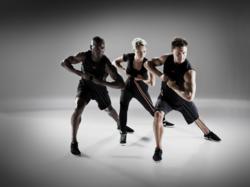 " ... high energy and unique ability to activate core muscles in a time-friendly 30-minute class ... "
San Francisco, CA (PRWEB) March 17, 2011
When one of the most respected names in the industry snaps up a product the second it's launched, you know you're onto something good!
Les Mills CX30™, a revolutionary new 30-minute core-training program, is unveiled to the world today at the IHRSA Trade Show in San Francisco, with the Gold's Gym chain also announcing they have signed up for the program on the strength of sneak previews and feedback from trials.
Les Mills International Chief Executive Officer Phillip Mills says the company's newest group fitness offering is the result of increased demand for core training in gyms and health clubs around the planet, and feedback from pilot clubs has been overwhelmingly positive.
"CX30™ combines the best features of both personal training and group classes. For the first time, we are applying the proven LES MILLS® formula to core training: specifically, trained instructors, and fresh workouts every three months with great music and choreography," says Phillip Mills.
"Of course, CX30™ has been designed to tone and strengthen the core muscles we use every day, but the program also challenges traditional thinking about how muscles are affected by exercise.
"CX30™ is a unique series of moves that target specific areas at high intensity, so you don't need to work out as long to get results. In fact, we found that sometimes working out longer can just fatigue your muscles," says Phillip Mills.
Core training was identified by the American College of Sports Medicine as one of the top 20 worldwide fitness trends predicted for 2011.
Gold's Gym International President, Jim Snow, says CX30™ represents the latest in core-training technique and innovation, and the chain believes its members will be amazed at the results it delivers.
"After carefully reviewing the program, we were impressed with its high energy and unique ability to activate core muscles in a time-friendly 30-minute class. We're proud to be the first major chain to offer the program," says Jim Snow.
CX30™ has been designed to tighten and tone abs and butts, and also to improve the functional strengthen of back, obliques and "sling" muscles that affect mobility, balance and injury prevention.
In developing the program, Dr Jinger Gottschall of Pennsylvania State University researched how muscles work during core-training exercises. Contrary to traditional thinking, she found that moves that work groups of muscles together, like hovers or standing balance, are just as effective as those that isolate specific muscles, like abdominal crunches or back extensions.
"One of our main goals was to think about the muscles that connect the upper and lower body. We wanted to see if we could still achieve maximum activation across the core when we add the shoulders and hips into a movement," says Dr Gottschall.
"We definitely did with CX30™ and in fact, the integrated activity was much higher than we expected. I initially believed the shoulders and hips would reduce some of the benefit to the core, but we actually found that core activity was just as high as with isolation exercises.
"It shows you can maximize results by using movements that work groups of muscles at the same time," she says.
Dr Gottschall's detailed findings will be presented to the American College of Sports Medicine in May.
CX30™ is now available for clubs to license and Gold's Gym will have classes available to the public in 22 of its clubs across the United States from April 16.
Notes to editors
The name CX30™:

C = Core
X = A visual representation of the targeted "sling" muscles that connect the upper and lower body diagonally from shoulder to hip
30 = a 30-minute workout, short and sharp.
Find out more:
http://www.lesmills.com/CX30
United States media inquiries:
Nikitin Sallee
Media Relations, Les Mills USA
media(at)lesmillsusa(dot)com
Phone (USA): +1 213 268 3754
Global media inquiries:
Kate Porter
Communications Manager, Les Mills Internationalkate(at)lesmills(dot)com
Phone (New Zealand): +64 21 220 7556
About Les Mills:

Les Mills International is the creator of global group fitness programs, including BODYPUMP™ (weights), BODYCOMBAT™ (martial arts) and RPM™ (indoor cycling). Millions of participants every week build their fitness in a LES MILLS™ class. About 70,000 certified instructors teach the LES MILLS™ group fitness programs in more than 13,500 licensed clubs around the world. From its base in Auckland, New Zealand, Les Mills renews each exercise-to-music program every three months with new choreography, licensed music and instructor education.
See http://www.lesmills.com for more information
About Gold's Gym:

Established in Venice, Calif. in 1965, Gold's Gym is the largest full service gym chain in the world with more than 700 locations in 42 states and 30 countries. Gold's Gym offers the latest equipment and services, including group exercise, personal training, cardiovascular equipment, group cycle, Pilates and yoga. With nearly 3.5 million members worldwide, Gold's Gym helps all kinds of people achieve their individual potential through fitness.
For more information please visit http://www.goldsgym.com, http://www.facebook.com/goldsgym or http://www.twitter.com/goldsgym.
###