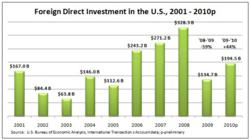 Washington, DC (Vocus/PRWEB) March 16, 2011
U.S. Department of Commerce estimates released today show Foreign Direct Investment (FDI) in the United States climbed to $194.5 billion in 2010. The Bureau of Economic Analysis (BEA) data shows last year's total was a 44 percent increase over the 2009 figure of $134.7 billion. The figure is the fourth highest recorded over a ten year period.
"At a time when job creation is paramount, it is outstanding news that global companies are pumping much needed capital into our economy," said OFII President & CEO Nancy McLernon. "The dramatic increase in such investment is a clear sign that these companies have a decidedly positive outlook for the American economy."
Of particular note, the new statistics show that the U.S. operations of global companies are reinvesting what they earn, back into their U.S plants and factories. Reinvested earnings more than tripled from $28.5 billion in 2009 to $93.1 billion in 2010.
Other important statistics on U.S. subsidiaries of global companies:
Jobs: U.S. subsidiaries of global companies employ 5.6 million Americans—nearly five percent of the total private sector workforce.
Payroll: U.S. subsidiaries support and annual payroll of $408.5 billion.
Manufacturing: U.S. subsidiaries heavily invest in the American manufacturing sector; nearly 40 percent of American jobs at U.S. subsidiaries are in manufacturing.
Exports - U.S. subsidiaries manufacture in America to export goods around the world — accounting for more than 18 percent of all U.S. exports, or $232.4 billion.
The Organization for International Investment is a Washington-based business association representing U.S. subsidiaries of global companies. For additional information, see OFII's web site at http://www.ofii.org.
###