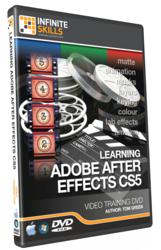 After Effects is a highly creative application, and these videos prove it.
(Vocus/PRWEB) March 17, 2011
Training company Infinite Skills Inc is now shipping a new tutorial video course covering the fundamentals of Adobe After Effects CS5. With 11 hours of direct instruction, the After Effects tutorial has been designed to provide a one-on-one training experience that allows viewers to learn at their own pace.
Adobe After Effects CS5 Tutorial Video - DVD
"After Effects has a massive tool set, and many users don't even know where to start," said Chris Johns, content development manager for Infinite Skills. "We've made it much easier for new users by covering the program's major functionality—compositing, animation and special effects—on a feature by feature basis and in a logical order that builds on examples."
The Adobe After Effects CS5 Training video course starts with hands-on primer of the program's many uses, quickly demonstrating how it handles composition tasks, key frames, textual effects and animation. This "quick start" format allows viewers to see what they will be able to do and begin to think creatively, according to Johns. After the initial demonstrations, the training adopts a detailed, more gradual approach, going through individual areas such as animating, visual effects, color correction, painting, 3D, particle effects and tracking with real-time examples and step by step instructions.
Multimedia enthusiast and course instructor Tom Green narrates each video tutorial, demonstrating major techniques within the After Effects interface and providing creative tips to help users get started. From title effects to fog and coloration, the included After Effects training video lessons explore the features most commonly used by filmmakers and post-production creatives worldwide.
"This is not just an overview of tabs and menus, but an exciting look at how After Effects can put your ideas into motion, using the same techniques and tools as leading professionals," Johns said. "After Effects is a highly creative application, and these videos prove it by putting some of its most impressive tools into the hands of the beginning user."
With the release of After Effects CS5, Adobe has added new software tools such as a Roto Brush for simplifying composites, color grading, and extraction and hardware compatibility enhancements such as full 64-bit support, improved memory management and presets for tapeless video workflows. The Infinite Skills training includes tutorials on new features as well as more established tools that professional users rely upon.
The complete Adobe After Effects CS5 Tutorial Video series includes 113 lessons. The package also features usable After Effects project files that exactly match those used in examples onscreen. Both Mac and Windows compatible, the training can be ordered on DVD or purchased as an instant download from the Infinite Skills website. The course retails for $99.95 and ships worldwide.
http://infiniteskills.com/training/after-effects-cs5-essential-training.html
About Infinite Skills Inc
North American-based Infinite Skills continues to grow as an established provider of computer based training and eLearning solutions. With a library of tutorials covering the world's most popular programs, the company supplies cost-effective training to individuals, educational institutions, and leading businesses worldwide.
# # #