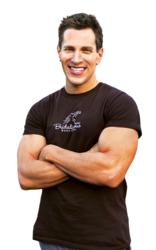 Atlanta, Georgia (Vocus/PRWEB) March 17, 2011
Wedding weight loss is one of the biggest focuses (and challenges) for brides-to-be. National wedding media company Perfect Wedding Guide has teamed up with America's Fitness Expert, Doug Rice, to offer fitness tips and resources for brides to get in shape for their wedding.
Brides can register online at PerfectWeddingGuide.com to receive free monthly video and eBook content on nutrition, workouts, and motivational tips from Rice, a nationally certified fitness trainer who founded Bridalicious® Boot Camp in Beverly Hills in 2005. Along with his Bridalicious® Boot Camp and a series of fitness videos and eBooks, Rice incorporates "bridal blast" interval training along with signature boot camp exercises for maximum weight loss and fitness results.
Additionally, Rice is offering his Bridalicious® Bootcamp Deluxe Edition DVDs at a special price for Perfect Wedding Guide brides. The series is designed with exercises to target the "bridal trifecta" – the arms, shoulders and back – which are usually on full display in a wedding gown. The four-disc DVD set, which normally sells for $197, is available for the discounted price of $67, with the special coupon code of PWG5476 entered at checkout.
To learn more about Doug Rice's Bridalicious® Boot Camp and slim down secrets or to register for bridal fitness content, visit PerfectWeddingGuide.com.
About Perfect Wedding Guide
Perfect Wedding Guide (perfectweddingguide.com), the leader in wedding media resources, is the oldest and most reliable wedding planning company in the United States. For almost 20 years, we have been dedicated to creating innovative wedding planning solutions for brides of all budgets. Our company offers couples a number of fun, useful, and FREE products to help make wedding planning less of a chore and more of a treat. Our local guides and bridal shows are available coast-to-coast in over 60 markets, showcasing some of country's top wedding vendors who work right in the bride's backyard. Our national Website, PerfectWeddingGuide.com, is full of fresh planning tips, wedding ideas and wedding news, an extensive photo gallery for inspiration, easy-to-use wedding planning tools, as well as a wedding blog community hosted by our national wedding planning expert. For more information, visit PerfectWeddingGuide.com.
# # #