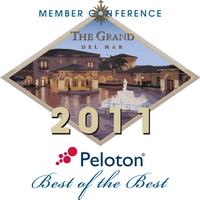 Irvine, CA (Vocus/PRWEB) March 17, 2011
The 2011 Peloton Global Distribution Services® (Peloton®) conference, held March 6-9, at the Grand Del Mar Resort in San Diego, CA, brought together over 200 attendees including members of Peloton and its affiliates along with some of the nation's top-rated insurance carriers and vendors. The conference focused on the introduction of new Peloton member companies, the discussion of strategic growth plans for 2011 and the enhancement of carrier relationships with Peloton's Strategic Carrier Providers.
Peloton members in attendance included 3 Mark Financial, Continuum Worldwide, CPS Insurance Services, First Summit Financial, Outsell Consulting, RJL Insurance Services, Superior Mobile Medics and USA Financial. This year, NBC National Marketing joined the conference as the latest addition to the growing family of Peloton member companies.
The 2011 conference kicked off Monday morning with keynote speaker Dr. Lowell Catlett, a Regent's Professor/Dean and Chief Administrative Officer at New Mexico State University's College of Agricultural, Consumer and Environmental Sciences. Catlett's presentation about the importance of family and the effect of the current economy left guests in a standing ovation.
Break-out sessions were held Monday and Tuesday, where the format allowed personnel from some of the nation's highly rated insurance carriers to meet with attendees on a more focused and individual level. This year's presenters included American General, Aviva, AXA Equitable, ING, John Hancock, Lincoln Financial, MetLife, Mutual of Omaha, Protective Life and Transamerica.
Other carriers in attendance included Minnesota Life, Principal Financial Group, Prudential and Savings Bank Life Insurance Company of Massachusetts. Attendees were able to meet with carriers and vendors each afternoon in the exhibit hall to discuss ideas and future business ventures, and also had the opportunity to ask questions about the day's presentations.
Wednesday's agenda was designed to give Peloton members the opportunity to host individual sessions.
"This year's conference in San Diego gave us an opportunity to collaborate on relevant subjects and discuss innovative ways to enhance our performance both as members of Peloton, and on an individual level where we focus on the needs of our affiliates and their clients," said Peter Holden, CEO of Peloton Global Distribution Services.
About Peloton Global Distribution Services®
Peloton is a consortium of elite individual organizations that are top performers within their industry. By aligning with Peloton, members have access to the powerful synergy of shared market intelligence, world-class marketing and lead generation capabilities, extensive products, services, technologies, systems and a superior level of support to create unmatched performance in the insurance and financial services industry.
Peloton membership allows the individual member entities and the group as a whole to combine strengths in order to reach the highest level of competitive success. Membership includes some of the premier general agencies, valued specialty companies and innovative industry suppliers on a global level.
To learn more about Peloton please visit: http://www.pelotonglobal.com.
CONTACT:
Kara Bautch, PR & Marketing Associate
Peloton Global Distribution Services®
Tel: 949.225.7123
Email: marketing(at)pelotonglobadot).com
Web Site: http://www.PelotonGlobal.com
###