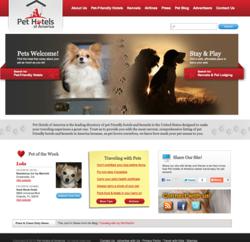 Pet Hotels of America is a one-stop reservation website that offers great deals on pet-friendly hotels, car rentals and airlines. Plus, it offers listings for kennels and pet hotels. The site was designed to make travel easy for pet owners.
Rancho Santa Margarita, CA (Vocus/PRWEB) March 17, 2011
As spring break recess ripples through the country, Pet Hotels of America has quadrupled its customer base, indicating the rise in number of people traveling with pets. For the past week, travelers have been flocking to the website to search for pet-friendly hotels, pet hotels and resorts, and kennels. This one-stop travel website is designed to make travel arrangements easy for those traveling with pets or searching for pet lodging while traveling.
Travelers that typically travel to Europe or other destinations abroad are now finding that traveling with their pet domestically has become an acceptable vacation option and within their financial means. With all the dog-friendly beaches, events and things to do, many pet-friendly vacation rentals are seeing in increase in reservations.
"We're finding that destinations like Orlando, Florida where there are a significant number of hotels that are pet friendly, are experiencing a significant surge in the number of guests requesting rooms reserved for pet owners," said Pet Hotels of America Chief Marketing Officer, Steve Wiideman.
The website, while newly launched, found that there are many pet owners seeking the kind of services it offers, from obtaining pet-travel information to making reservations. To do this, they had to search through many websites to get what they needed. But with the launch of Pet Hotels of America, all their travel needs are met from one place. Its capabilities include researching and booking rooms at pet-friendly hotels throughout America, managing pet air travel, finding kennels that are searchable by state and reserving a rental cars in any designated city.
Pet Hotels of America is drawing visitors of all ages because it offers something for everyone. It provides extensive travel information, funny pet-related videos and stories, veterinarian advice and much more. People can showcase their pets and win e-gift certificates to major brand pet stores. There's even a list of rescue dogs waiting for dog lovers to take home. It's the resource people with pets can count on to get what they need.
"Traveling with pets has hit an all-time high, largely due to babyboomers who are filling their empty nests with pets," said Lisa Porter, CEO, Pet Hotels of America. "As traveling with pets becomes increasingly popular for everyone from college students to seniors, the need for a website like Pet Hotels of America has become apparent and its increase in people making reservations from the site is a good market indicator."
For more information on Pet Hotels of America, please visit http://www.PetHotelsOfAmerica.com or call (877) 375-1946.
###