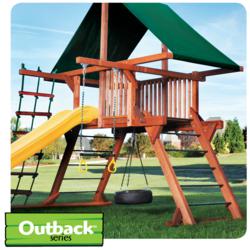 Raleigh, NC (Vocus/PRWEB) March 17, 2011
Today's parents have the ability to create a wooden swing set that's just right for their children, from the practically endless possibilities available from high-quality swing set brands such as Woodplay Playsets. Yet, while the choices are nearly endless, designing the perfect wooden playset for your kids is even easier now that Woodplay has streamlined its swing sets into two simple starting points – the Outback (angled base) and the Playhouse (square base). Every perfect swing set begins at one of these two basic concepts and grows from there as the parent and child choose combinations and options.
The Outback is a Woodplay original angled design that is now a swing set industry standard. It offers more room "down under" the swing set deck for play, enough room to add a tire swing. Angled-base swing sets give wide access to the swing set deck, and are perfect for playground equipment add-ons like a rock wall or chain ladder.
The Playhouse, or square-base wooden swing set, is the classic playhouse look in a playset. It offers a cozy, compact footprint, plus extras like a built-in picnic table and sandbox. You can add a bonus room, a sun room, or favorite swing set options like a rock wall or monkey climber.
"Woodplay makes it possible to create a unique swing set which will meet any family's needs, and this year we've made it easier than ever to find the perfect fit for the family and their yard, " says Tom Ellingson, Woodplay Product Manager. Beginning with an Outback or Playhouse, parents can then choose from more than 65 unique combinations of Woodplay playset components, with nearly endless flexible possibilities designed to fit their needs, their yards and their budgets. Even parents with smaller yards will find several options to keep their kids entertained for hours on end.
At Woodplay, the original redwood playset company, your swing set decision takes just three steps.
1. Choose a base style – Outback or Playhouse -- and a roof: Roofs come in vinyl or wood and several color choices. Select what works for your family and your neighborhood.
2. Choose size and combination: Choose a deck height of 5, 6 or 7 feet and a regular deck size or extra-large size, then let your imagination run wild by adding configurations such as a swing beam, hurricane slide or skybox.
3. Make it your own: Some of the newest add-ons including a megaphone just like the ones cheerleaders use, a rugged accessory that lets kids be heard; the triple-shot game, an action-filled family favorite for kids of all ages (including parents) with inflatable balls and adjustable-height goals; and a Step Chain Combo Ladder, which offers two side-by-side choices for kids who climb at different levels.
That's it. Choose angled or square and in three easy steps families are well on their way to endless summer fun, and building unique experiences. The swing set company with the easiest concept-to-installation process just made things even easier for families.
###