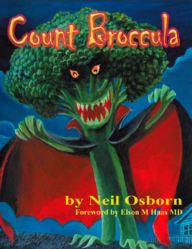 "Using humor, 'Count Broccula' delivers positive messages to children about eating correctly," said Seasons Studios Co-Founder and CEO Elson Haas, MD.
San Rafael, CA (Vocus/PRWEB) March 22, 2011
Seasons Studios, a company dedicated to children and family educational entertainment, and RipplFX, Inc., a producer and developer of animated mobile apps, celebrate national 'We Love Broccoli Day' March 22, by discounting their 'Count Broccula' storybook and apps through Sunday, March 27. The interactive, animated version is available for only $2.99 for iPad™ and only $.99 for iPhone®/iPod touch® (regularly $3.99 and $1.99, respectively) on the App Store. The printed version's discounted price is only $12.75 (regularly $16.95) and is available directly from the Seasons Studios website.
The theme of 'Count Broccula' is "Eat your vegetables before they eat you!" This comic tale is about a young boy who overcomes his fear of eating vegetables, especially broccoli. Written and illustrated by Neil Osborn, the printed version includes a foreword, recipes, and planting tips by Dr. Elson Haas. At the end of the app, you take a walk with him in his happy garden and learn the names and shapes of his newly found Veggie Friends. For ages 4 and up. For additional information and to view preview videos, visit the RipplFX website.
"Using humor, 'Count Broccula' delivers positive messages to children about eating correctly," said Seasons Studios Co-Founder and CEO Elson Haas, MD. "These special offers are our way of joining many others today in celebrating the wonderful health benefits of eating broccoli." Co-Founder Bethany Argisle adds, "You don't have to be a vegetarian to love broccoli; you can be a 'Broccolitarian' and eat it with everything."
"Getting kids to eat their vegetables is a challenge most parents face, 'Count Broccula' is a fun adventure for both kids and adults and an enjoyable way to promote healthy eating habits while learning about broccoli and other vegetables," said Nicole Lundeen, Founder and CEO of RipplFX, Inc.
About Seasons Studios
Seasons Studios is dedicated to educational entertainment for children and families about health, nutrition and the environment. Through its unique line of interactive books, music, apps and clothing, it is their hope that children, our world's most important investment, will grow up to value their own health and that of the world around them. Seasons Studio co-produced the 'Count Broccula' app with RipplFX, as well as the 'Blimps and Whales' book and app, and are working together now on new apps for 'The Anatomix Comix' songbook about the body and its many amazing systems. Find out more at the Seasons Studios website.
About RipplFX
RipplFX, Inc. is a mobile media company producing interactive storybooks on multiple platforms for iPad, iPhone, Android, and webOS. RipplFX' professional team of producers, illustrators, and animators craft their products to enhance interactivity in storytelling to create an engaging learning experience. Using a proprietary development system, RipplFX builds quality and affordable apps for authors and publishers. RipplFX is also building a library of carefully selected properties for development and distribution in film, animation, shorts, features, games and new media. To learn more about RipplFX' full suite of services go to the RipplFX website.
Media Contacts:
Seasons Studios
Sandra Evans
sandra(at)andassociates-ca(dot)com
415.887.9230
RipplFX
Frank Colin
fcolin(at)ripplfx(dot)com
+1.310.515.3625
# # #