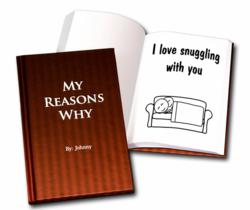 We're always listening to our user's suggestions to see what features will help them create their books easier.
Royal Oak, MI (Vocus/PRWEB) March 18, 2011
The web company known for creating the gift book that lists reasons why you love someone launches its newest version. LoveBook Online released version 2.5 of the LoveBook Page Editor application to make it easier than before to make a personalized book for someone you love. The added new features give the user more control and short cuts to save time. The new features include:

Undo/Redo Action
Layer Options for Stamps
Selectable Drawing Pen Tool
New Grouping Features
Updated Stamp Request Form
Virtual Book Preview
"We're always listening to user's suggestions to see what features will help them create their books easier." said Chris Sonjeow, co-founder and CMO of LoveBook Online. "After studying our testing groups use the book building system, we found that there were some missing features that would dramatically speed up the process of creating custom pages. The upgrades will also allow more control over the stamp images. "
The new book preview builds a virtual book that turns pages like a real book, showing you exactly what the final product will look like. "The book previewer is an important addition to our feature list. It really brings the product to life and gives a good impression of what the customer will be receiving."
The update is fully available for public use and will not affect users who have previously started LoveBooks.
Founded in November 2007, the mission of LoveBook, LLC is to give people a way to easily express our most powerful human emotion: Love. LoveBookOnline.com is a web application that allows users to create, edit, publish and purchase the specialized gift books called LoveBooks. LoveBook, LLC is a privately held company and is headquartered in Royal Oak, Michigan.
###