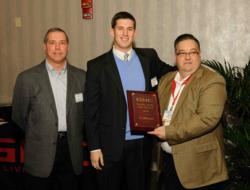 The innovation pipeline is the fullest it has ever been. We are
doing our best work now and it will show in the coming quarters. That is about all I
can say at the moment.
Columbus, OH (Vocus/PRWEB) March 18, 2011
General Nutrition Centers (GNC) presented 3 awards, including the industry's highly coveted "Vendor of the Year" award to Cellucor at its annual vendor reception at the Arnold Classic in Columbus, Ohio. These awards came just days after the official, and highly anticipated launch of C4 Extreme, a pre-workout supplement that has been the talk of the industry since late last year when C4 Extreme was pre-released in limited quantities.
Cellucor, a premium supplement line in the sports nutrition and diet category has recently been on a roll, having won the "New Brand of The Year" award from bodybuilding.com just six months earlier. "It is an extraordinary honor and also quite humbling for Cellucor to be recognized by GNC as 'Vendor Of The Year'," said Doss Cunningham, Cellucor's CEO.
The recent success of the Cellucor brand is not much of a surprise for those who follow the brand closely. During the past six months Cellucor has revamped its entire product line, launching the 3rd Generation "Chrome Series". The new series is much improved and features a few new products, including the high intensity energy drink that has the industry going crazy – C4 Extreme. Cellucor has also expanded its domestic distribution into several thousand new GNC locations, as well as abroad through international distributorships.
Cellucor is reportedly releasing several new line extensions in the latter part of the year, but the company is being pretty tight lipped about it. In a statement made by the company's CEO, "The innovation pipeline is the fullest it has ever been. We are doing our best work now and it will show in the coming quarters. That is about all I can say at the moment."
###