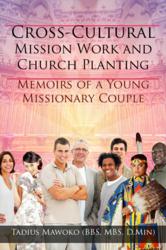 Dallas, TX (Vocus/PRWEB) March 21, 2011
Cross-Cultural Mission Work and Church Planting: Memoirs of a Young Missionary Couple, a new book by Dr. Tadius Mawoko (BBS, MBS, D.Min), has been released by RoseDog Books.
From sand-duned, diamond- and uranium-rich Namibia to ultra-modern cities and the outback of multicultural Australia, to New Zealand, and the diverse USA, Cross-Cultural Mission Work and Church Planting is more than Memoirs of a Young Missionary Couple. This is a manual, which brings enlightenment to missionaries in the field or would-be missionaries.
The book touches most aspects of mission work in a cross-cultural setting and helps one to avoid mistakes already made and rectified. We don't always have to learn from the School of Hard Knocks when someone has already won over the same situation. We simply need to embrace tried and tested ideas and Holy Spirit-inspired methods to win different cultures to Jesus and live and serve the Lord in love "as one"!
Dr. Mawoko is Senior Pastor of Forward In Faith Ministries International (FIF) in Dallas, TX, and is Deputy National Administrator of Forward in Faith (USA) and Overseer of the Texas Region.
Born in Zimbabwe, Pastor Tad has been a missionary and overseer to Namibia and Australia and planted churches in Namibia, Australia, New Zealand, and the USA. A former air traffic controller by profession, Pastor Tad holds a diploma in Air Traffic Control from the Danish College of Aviation, a diploma from Africa Multination For Christ College, and a B.B.S, M.B.S., and doctorate from Friends International Christian University in California. He studied Advanced Christian Counseling at Christ For The Nations Institute (CFNI) in Dallas, where he also is a guest tutor.
Dr. Mawoko and his wife speak at conferences in and outside FIF. They have done youth and marriage counseling since 1990 and simply love people. They are proud parents of one wonderful son and two lovely daughters.http://www.tadiusmawoko.com
Cross-Cultural Mission Work and Church Planting: Memoirs of a Young Missionary Couple is a 108-page paperback with a retail price of $15.00. The ISBN is 978-1-4349-8237-7. RoseDog Books of Pittsburgh, Pennsylvania published it. For more information or to request a review copy, please visit our virtual pressroom at http://www.rosedog.com/pressroom or our online bookstore at http://www.rosedogbookstore.com
###