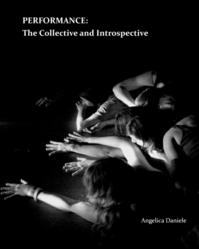 "It's a book that will intrigue a dance-ready audience, but is accessible and relevant to all readers. The thoughts and emotions and their effects on the self as experienced through any form of public display are discussed in universal terms."
Omaha, NE (Vocus/PRWEB) March 17, 2011
Performance: The Collective and Introspective is a three-part research investigation that looks at the life of a performing artist, without filters, from a psychological perspective. The physical, mental, and emotional aspects of a dancer's life on the stage are revealed through literature, a survey based research and personality study with children through professionals, and a personal account of the author's experiences on and off the stage. It is a fearless account of the growth of an artist through building self-awareness.
"It's a book that will intrigue a dance-ready audience, but is accessible and relevant to all readers. The thoughts and emotions and their effects on the self as experienced through any form of public display are discussed in universal terms," says Daniele. "I hope this book draws attention to the field, and to the importance of self-reflection."
Performance: The Collective and Introspective will be sold through the publisher at http://www.writelife.com and all major online book retailers. Angelica plans to host several book signings in the coming months in support of local dance companies in the Baltimore area, where she currently resides.
Daniele commented, "I wrote Performance to give something back to the dance field, and I want to continue in that act by sharing the fruits of my labor with the artists who have made my ideal profession a reality."
Performance: The Collective and Introspective is published by WriteLife LLC, a collaborative publishing company based in Omaha, Nebraska. Please visit http://www.writelife.com for more information about how to obtain a copy.
ABOUT ANGELICA DANIELE
Angelica is a Philadelphia native and current Baltimore resident with a passion for both the arts and psychology. She currently dances professionally and serves as an administrator for local dance schools and organizations. She additionally serves on the board for the Maryland Council for Dance, as well as the DanceUSAs Emerging Leaders Task Force, focusing on a national dance mentorship program to pilot in 2011. She is pursuing her M.A. in Arts Administration from Goucher College, and anticipates receiving this degree in 2012. She was named the recipient of the Emerging Voices in Psychology and the Arts Award through True Center Publishing based in Doylestown, PA in 2009 and hopes in the future to incorporate the creative arts therapies, training, performance, and pedagogy into the mission of a future non-profit arts center.
ABOUT WRITELIFE LLC: WriteLife is a collaborative publishing company. They offer an interactive way for writers to create, share, publish, and market their literary work. WriteLife advances the author the pre-production and production costs of editing a manuscript, creating a book, and placing it in distribution channels. For more information on WriteLife, visit http://www.writelife.com.
###