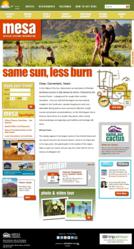 Mesa, AZ (Vocus/PRWEB) March 19, 2011
The Mesa Convention & Visitors Bureau (Mesa CVB) unveiled a new website, http://www.VisitMesa.com, featuring updated Internet functions that will help the tourism organization promote Mesa's core attributes to the online consumer. The site, designed and hosted by Tucson-based Simpleview, utilizes numerous new and innovate tools and gadgets that are in-demand by today's Internet user. From up-to-the-minute social media feeds for Twitter and Facebook to the addition of a coupon function for Mesa attractions and tourism-related businesses, consumers can expect more user-friendly access to travel-related content for Mesa, Arizona.
The website overhaul re-organized the destination under four basic pillars: Hotels, Restaurants, Calendar and How to Get Here. When laying out the site map it was critical to make the online travel resource easy to navigate and these four categories were selected based on most popular search terms from the previous website. The site's content was completely updated and now reflects bold Mesa imagery that changes based on the season/time of year, as well as six sub-categories with tailored information for each unique audience: Tour & Trade, Media, Sports Planner, Meeting Planner and Visitors.
"There's no question that online research affects travel-making decisions and as Mesa continues to announce key tourism-related developments it was important to have our website reflect our dynamic offerings as a destination," said Robert Brinton, president and CEO of the Mesa Convention & Visitors Bureau. "Mesa is an attractive, affordable Southwest city and our website helps us portray this to the online consumer seeking out Arizona for leisure or business travel."
New for website visitors is the integration of Google Maps™ mapping service which identifies any website listing on an interactive map of Mesa. The Listings Explorer option is a planning tool on the site that allows online visitors to plot all their potential travels on a map of Mesa and the surrounding area. The Explorer tool can narrow online searches to key topics and then further shrink the search results based on a variety of sub-topics. The result is a map of Mesa offerings tailored to each individual user which can be printed with complete address and detailed information on each attraction.
The VisitMesa.com web site is also one of the few domains designed by Simpleview that boasts the popular online activity of group coupons. Here, Mesa businesses can post group discounts to online visitors. The coupons, located under the Visitors Info tab, can be printed directly from the website. After selecting multiple discounts, guests have the option to view their "coupon pack" online and print their special discounts and offers at one time using this shopping-cart like function. Regular visits to the website are encouraged as new offers and discounts are posted daily.
Potential visitors can also search Mesa hotel rates through the online booking engine, Hotelicopter. This new booking service searches the best available rates from multiple properties allowing online viewers to price compare hotel rates on one screen with one date-range search. After selecting the property of choice, Hotelicopter then allows the viewer to compare best rates from multiple booking engines including Orbitz, Expedia, Hotels.com, Priceline and more.
Other signature features include updated reviews connected to each business listing through TripAdvisor. In addition, personalized virtual postcards can be sent to others via the Photo Video Tour section. The Mesa CVB's complimentary brochures are also available for download directly from the site including the 2011 Official Mesa Visitors Guide and the Mesa Desert Guide.
Mesa is the second largest city in the Phoenix-metropolitan area with a population just shy of 470,000 residents. For more than 25 years, the Mesa CVB has been responsible for marketing Mesa, Arizona as a leading vacation, small meeting and sports travel destination to regional and national target audiences, including travel agents and group tour operators, meeting planners, leisure visitors and media.
MEDIA CONTACT:
Michelle Streeter, Director of Public Relations, Mesa Convention & Visitors Bureau
Direct: 480-682-3638, Toll-free: 800-283-6372 x345, E-mail: Michelle(at)VisitMesa(dot)com
# # #