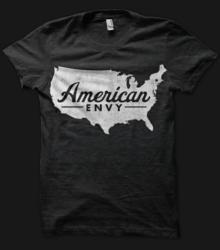 American Envy is committed to providing customers with high quality clothing at a reasonable price.
Easthampton, Massachusetts (PRWEB) March 24, 2011
American Envy is a new clothing brand that offers a unique clothing line that makes its own statement. They are committed to providing customers with high quality clothing at a reasonable price. American Envy beat's the prices of most major clothing brands for material of equal or greater quality. Designs are bold, classic, and timeless.
Most major clothing manufactures now have products manufactured overseas. These manufactures have chosen to "cash in" on moving operations to cheaper labor producing countries, rather than take a cut in profits. Why care? Simply put, buying American made products, helps better support the local economy.
They like to engage with customers on a personal level, through a facebook page, blog, and contests. They invite people to share photo's, design idea's, and be involved with the brand. Contest winners have the chance to win discounts, free clothes, and cash.
The founder, David Pshenishny is a business college student, who has been selling top name brand clothing for great prices on ebay for almost five years. David has sold clothing to thousands of people, both locally and internationally. David collaborates on ideas with well known fashion designers from around the world.
The American Envy website includes its own customer profile system, where users can post, upload photo's, and more. This is all to bring users closer together to each other and become apart of the brand.
American Envy products are made here in the U.S.A., and are printed locally. The neat custom packaging, great customer service, and unique line really set this brand apart from the rest. Moving forward, American Envy will soon offer hats, underwear, and a complete full line of high quality clothing.
###