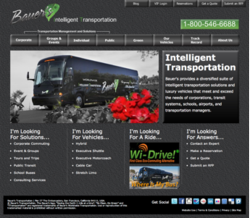 HiveMind Marketing helped us achieve our goal...
San Jose, Calif. (Vocus/PRWEB) March 19, 2011
HiveMind Marketing, Inc. kept things rolling in the New Year by launching a new website for Bauer's Intelligent Transportation. The site repositions Bauer's as a global leader in providing individual, corporate, public, and group transportation services while preserving its renowned green, high tech and luxury brand, and delivers an online experience unrivaled in the transportation industry.
"Our goal was to align the look and feel of the website with the company's national reputation. We strengthened the content and repositioned the company as the industry leader that they are," said Tom Lauck, CEO and Chief Creative Officer of HiveMind Marketing. "The new Information Architecture we developed puts the information that prospects and customers need at their fingertips."
The new Bauer's website reflects the company's diversified suite of intelligent transportation solutions and luxury vehicles which address the transportation needs of corporations, transit systems, schools, airports, and transportation managers. Content was updated and rewritten to reflect the industry-leader positioning. The site provides the foundation for lead generation strategies that capture interest in sponsorships, affiliate programs, requests for proposals (RFPs), and quotes for services.
When asked about the project, Gary Bauer, Founder and CEO at Bauer's Intelligent Transportation, summarized it in this way:
"It was time for us to make a change: We've grown substantially and now provide commuter programs and transportation services to some of the most successful and popular companies in the world. And, with 97 percent of all miles covered by our vehicles being eco-friendly miles, our commitment to green business is stronger than ever. Our website needed to reflect that, and it didn't, so we engaged HiveMind Marketing to guide us through the process of building a new site that reflected who we are and what we stand for today. Through their unique cross-functional skill set, including experience with social media, lead and demand generation, and search marketing on top of their historical expertise in web design and development, HiveMind Marketing helped us achieve our goal."
About Bauer's Intelligent Transportation
Today, Bauer's Transportation provides corporations, airports, and transportation managers with one of the largest fleets in America dedicated to providing green, state of the art eco-friendly luxury business shuttles and motorcoaches . In addition, Bauer's utilizes Mercedes Blue Tec and hybrid technology for its black car and VIP services. Bauer's employs over 200 employees, including 150 well-trained chauffeurs, who transport thousands of people each day to and from work and special venues.
With an eye to the future and the planet, the company , first introduced the idea of "Green" transportation in 1999. Highlighting the company's "Corporate Green Initiative" is the fact that 97% of the miles driven by Bauer's Transportation are done with alternative fuels.. In 2009, Bauer's was presented with the prestigious "Green Highway" awarded for the greenest transportation company in American by the United Motorcoach Association. In 2010, the United Motor Coach Association again awarded Bauer's, this time with the "Vision Award" for innovation in marketing, customer service and public service.
Gary Bauer's personal philosophy of building long-lasting relationships with clients, vendors and valued team members provides a solid foundation for the company bearing his name. He is dedicated to outstanding customer service and worry-free, safe, and environmentally-friendly transportation that exceeds all expectations.
About HiveMind Marketing, Inc.
Founded by Tom Lauck, HiveMind Marketing is a digital marketing agency that integrates web design and development as well as email, search, and social media marketing to help companies generate and increase demand for their brands, products, and services. We believe that effective marketing requires an integrated system of audiences, messages, objectives, and tactics with success dependent upon the integrity and interconnections of the system's parts.
While isolated tactical efforts can generate results, they make little difference in the context of high-level objectives such as building demand, generating leads, engaging audiences, creating customers, and establishing champions. To make that difference, your marketing efforts must include a full understanding of the needs and characteristics of your audiences, your differentiated benefits to those audiences, and your objectives for communicating with those audiences, and then leverage best-in-industry, audience-centric strategies and tactical plans.
At HiveMind Marketing, that is what we do; that is who we are. We marry innate intellectual curiosity, helpless creativity, and practiced critical thinking with broad industry experience and knowledge of best practices to craft action-oriented, differentiator-focused strategic plans full of Remarkable Ideas that generate Sweet Results.
# # #