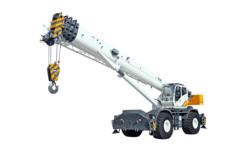 Houston, TX (Vocus/PRWEB) March 17, 2011
Global Crane Sales will be exhibiting the new Zoomlion RT60 and RT80 Rough Terrain Cranes at CONEXPO. Global is the exclusive worldwide distributor for Zoomlion Rough Terrain cranes. These cranes were specially designed for worldwide distribution, and were engineered for the Western markets using best-in-class parts including AxleTech axles, Cummins engines, Dana transmissions, and numerous extras usually offered at additional cost.
After consulting with the world's top crane experts, each Zoomlion rough terrain crane has been engineered to have the maximum capacity at radius in its class. Zoomlion's new line of rough terrain cranes has equal or superior construction, features, and equipment to competing cranes. The line up consists of the RT40 (40 US tons), RT60 (60 US ton), RT80 (80 US ton) and RT110 (110 US ton). All of Global's Zoomlion RT's are ANSI certified.
Global Crane will have representatives Uri Toudjarov and Ed Gibson at the show to exhibit the cranes, answer questions, and meet with interested buyers. Global is currently taking orders on all models, and has a very healthy backlog from customers worldwide.
CONEXPO is an international gathering for the construction industry. Held every three years, the exposition showcases the industry's latest equipment, products, services, and technologies. CONEXPO is being held from March 22-26, 2011 and features over 2,000 exhibitors taking over the entire Las Vegas Convention Center. Global Crane Sales can be found at the at the Zoomlion booth, S-619.
ABOUT GLOBAL CRANE SALES
Global Crane Sales is the exclusive partner of Zoomlion in distributing Zoomlion cranes worldwide. Global is headquartered in Houston, Texas, and has sales and distribution offices worldwide. They can be found on the web at http://www.globalcranesales.com.
###