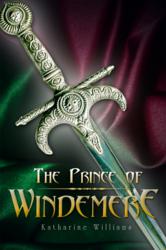 Del Haven, NJ (Vocus/PRWEB) March 19, 2011
The Prince of Windemere, a new book by Katharine Williams, has been released by RoseDog Books.
In The Prince of Windemere, a young man discovers the responsibility and power that are his birthright and his mission to save and lead his kingdom.
As a half-elf and half-human, Benjamin Tyler possesses extraordinary powers that lead him back to his mother's home. The kingdom of Windemere is the land of elves; Ben's grandfather is their king, and he is the sole heir to the throne.
Ben is immediately sought when his grandfather falls ill and only he can make the king well. As the king recovers, Ben is introduced to the entire kingdom as a prince. He also learns more about the danger that looms over Windemere due to an impending attack from the Chaga.
With his courage, wisdom, and power, Ben leads the Windemere soldiers in a victorious battle against the enemies. As peace reigns once more, Ben knows that his destiny has just begun to unfold.
The author was born in Michigan and has resided in California, and she now lives in a shore community in Southern New Jersey. She has enjoyed painting and other artistic hobbies. She has been an avid reader since childhood. Her son introduced her to the fantasy genre several years ago. Having a good imagination and after retiring from the school system, she decided to put a story on paper. She has enjoyed the experience and has begun a sequel to The Prince of Windemere.
The Prince of Windemere is a 232-page paperback with a retail price of $24.00. The ISBN is 978-1-4349-8272-8. RoseDog Books of Pittsburgh, Pennsylvania published it. For more information or to request a review copy, please visit our virtual pressroom at http://www.rosedog.com/pressroom or our online bookstore at http://www.rosedogbookstore.com.
# # #