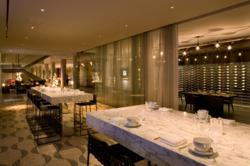 "Pierre is the perfect candidate to take over RH from Chef Sebastien Archambault. He will maintain the market-to-table Southwestern French cooking, which RH is recognized for."
Los Angeles, CA (Vocus/PRWEB) March 21, 2011
Andaz West Hollywood is pleased to announce Pierre Gornes as the new Executive Chef at its RH Restaurant. Bidding adieu to Chef Sebastien Archambault, who is departing to take on a new venture, Gornes will helm the kitchen delivering on the restaurants market-to-table model and continuing to serve guests some of the best French food in Los Angeles. It is with this news that RH wishes Chef Archambault much success and a fond farewell.
Gornes, who has served as sous chef at RH since 2009, is a natural fit for the principal position having a profound understanding of RH's dedication to dynamic and authentic cuisine as well as unyielding commitment to fulfilling the expectations of every RH guest. Like Archambault, Gornes was born in the Southwest of France and has worked in highly acclaimed kitchens including the Hotel Bel Air and two Michelin starred restaurants, Les Ambassadeurs at the Hotel de Crillion in Paris and the Alain Ducasse bistro Aux Lyonnais in Paris.
"Pierre is the perfect candidate to take over RH from Chef Sebastien Archambault. He will maintain the market-to-table Southwestern French cooking, which RH is recognized for," said Michel Morauw, General Manager of Andaz West Hollywood. "Also, learning under Chef Sebastien in RH will ensure the continual neighborhood familiarity and friendly service that guests are accustomed to receiving from RH."
"It's with sincere gratitude and excitement that I accept the Executive Chef position at RH" said Chef Gornes. The hybrid of French and California cuisine, the cultivation of relationships with local farms and wine producers are two things I am very proud of. Having been a part of the RH culinary team for nearly two years I can honestly say that I wouldn't change anything about our dining philosophy. The only changes guests should expect are some new and exciting seasonal menu items coming in spring."
For more information about RH or the Andaz West Hollywood please visit: http://www.RHwesthollywood.com or http://www.westhollywood.andaz.com. To make dinner reservations at RH please call 323-785-6090.
ABOUT RH
Located at Andaz West Hollywood, the 100-seat RH restaurant and bar showcases the menus of Executive Chef Pierre Gornes, who previously worked in kitchens at Hotel Bel Air and two Michelin starred restaurants in Paris. Now his Southwestern French cuisine featuring California's freshest ingredients is prepared in an exciting culinary setting – the 1,515-square-foot exhibition-style open kitchen. Private dining is also available for up to 12 people along an expansive 400-bottle wine wall. The eclectic wine list features 70 varieties of California and French small-lot, hand-crafted boutique wines. RH's overall ambiance is elegant and refined, yet casual and comfortable, with a fresh and lively mid-century vibe. It is open daily from 6:30 am to 11:00 pm. Brunch is served on Saturday and Sunday from 10 a.m. to 3 p.m. For reservations, please call (323) 785-6090.
ABOUT ANDAZ WEST HOLLYWOOD
Global in scale while local in perspective, Andaz delivers an innovative hospitality experience blending personal preferences with attentive and uncomplicated service. This unique collection of hotels reflects the personality of each locale, and is dedicated to creating natural and vibrant living spaces where travelers can indulge in their own personal sense of comfort and style. Opened in January 2009, Andaz West Hollywood features a sophisticated, modern design inspired by the sexy vibe of the Sunset Strip, the glamour of the Hollywood Hills and a renegade rock-and-roll past; RH Restaurant & Bar with authentic Southwest French cuisine from Chef Pierre Gornes; a 3,600-square-foot rooftop Sundeck and heated pool with views of the Los Angeles skyline from downtown L.A. to the beaches; and over 9,000 square feet of flexible meeting and event space. Andaz's other properties include: Andaz Liverpool Street in London, Andaz Wall Street, Andaz San Diego and Andaz Fifth Avenue. For more information visit online at http://www.westhollywood.andaz.com.
# # #