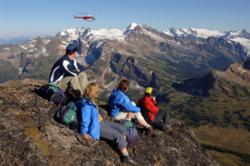 Banff, Alberta (Vocus/PRWEB) March 23, 2011
With some of the most spectacular scenery known to man, challenging hikes, mountaineering, gourmet mountain cuisine and comfy accommodations, guests hardly need another reason to take a vacation with CMH Summer Adventures. But this year, the company is adding an outstanding line-up of guest speakers on several of its Summer Adventure trips. Want to know what makes a popular but contentious journalist tick? Be enthralled and amused by an anthropologist's adventures? Learn about the challenges of polar expeditions or hike with a grizzly bear expert? Then look no further.
July 8 - 12, 2011: An entertaining 4-day hiking, walking and educational journey from the Bobbie Burns Lodge with naturalist Brian Keating-- Adjunct Assistant Professor of Anthropology at the University of Calgary, radio host, children's author, pilot, naturalist, scuba diver, mountaineer and former head of Conservation Outreach with the Calgary Zoological Society. Having led some 80 expeditions to remote locations around the world, Brian will entertain guests with presentations on his adventures, including Penguins in Paradise, Madagascar Magic, and Animal-Assisted Mountain Adventure. Witness what made Reader's Digest select Brian as its 2006 "Canadian Hero of the Year" for his global environmental efforts.
July 27 - 30, 2011: A 3-day hiking, walking and educational holiday from the Bobbie Burns Lodge with award-winning Canadian journalist Christie Blatchford-- one of the Globe and Mail's best-read columnists, known for her fearless approach to controversial subjects. Christie will talk about how journalism has changed throughout her career and will address the topic of "What journalism says about us."
August 2 - 5, 2011: This 3-day adventure will enable guests to speak with grizzly bear expert Michael Proctor at the Bugaboo Lodge. One evening, Dr. Proctor, who specializes in the grizzly bears of Western Canada's Kootenay region, will lead an engaging discussion on his recent research and work to protect grizzly bear habitat, as well as sharing his wisdom and insight (not to mention humor) each day during hikes and walks in the pristine mountain terrain.
August 23 - 26, 2011: Renowned polar explorer, Eric Larsen, headlines this 3-day hiking, walking and educational journey in the Bugaboos. Guest will have the opportunity to speak with Eric about his polar expeditions and passion for the snow, as well as his commitment to the environment. At the lodge, he will present "Into the Heart of Cold," detailing his 2010 accomplishment of journeying to both the North and South Poles and the summit of Mt. Everest within the space of a year.
These trips are priced from CAD $2,490 based on double occupancy. For more information, please visit: http://www.cmhsummer.com or call 1-800-661-0252.
About CMH Heli-Skiing & Summer Adventures:
Offering heli-adventures since 1965, CMH Heli-Skiing & Summer Adventures is the world's oldest and largest heli-skiing and heli-hiking operator. From their head office in Banff, Alberta, CMH operates exceptional mountain experiences at 11 lodges located in the Bugaboo, Purcell, Selkirk, Monashee, and Cariboo ranges of British Columbia, Canada. Heli-skiing takes place each year from December through April, and CMH Summer Adventures take place from July into early September.
###