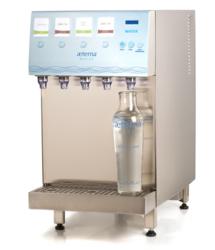 Aeterna's IRYS MULTI BEVERAGE is the perfect choice for fresh, purified still water (room temperature and chilled) and chilled sparkling water in high volume as well as a customized choice of fruit juices, teas, or sparkling beverages.
Boston, MA (Vocus/PRWEB) March 18, 2011
The prestigious New England Food Show opening salvo includes the first industry-wide presentation of water and multi beverage delivery systems by Aeterna Water (http://www.aeternawater.com). New-to-market Aeterna is comprised of a seasoned team of water delivery professionals who have reinvented a state of the art water and multi-beverage delivery system for the HORECA industries in an eco-conscious, green solution to help eliminate glass bottles, plastic and cans for the industry.
"We have chosen the New England Food Show to announce our presence in the water and beverage dispensing market for the HORECA Industry with our customizable Waterwave Systems™. One taste and a hands-on experience of our fully-functioning dispensing system at our stand (No. 3223) will be testimony to the high value proposition we offer," affirmed Antonio Bucciarelli, West Coast Director of Sales for Aeterna Water, Inc.
With a sleek line of customizable dispensers suitable for all volume needs, the Aeterna systems deliver room temperature and chilled still water, and chilled sparkling water in a quality driven, ever flowing system that challenges the cost and efficiency of existing systems on the market. Its fully recyclable filter, manufactured by 3M, is the only one of its kind to be integrated in the Italian designed and engineered dispensing systems of Aeterna.
Aeterna's market expertise has resulted in engineering superiority for the industry by integrating fully customizable post-mix, "Bag in a Box" beverage choices to be combined with its superior water output. Aeterna has sourced the world to bring the highest quality, range of exotic juices, tonics, fruit sparks and health drinks on demand.
Aeterna's eco-friendly business culture proposes a product and a service that contribute to reducing plastic in favor of glass, eliminating waste and run-off water, reducing unnecessary energy for cooling, stocking, and transportation related to classic water systems, and performing all customer relations in a paperless environment. "We said good-bye to plastic. Our goal is to provide the ultimate in quality, purity and freshness of water for our clients by using state of the art technology to help preserve the environment and protect the planet," states Claudio Di Persia, CEO of Aeterna Water.
About The New England Food Show: The New England Food Show is located at the Boston Convention Center (415 Summer Street Boston, MA 02210). Show hours are Sunday and Monday, March 20-21 from 9:00 AM to 5:00 PM and Tuesday, March 22 from 10:00 AM to 3:00 PM. Further information can be obtained at http://www.massconvention.com.
About AETERNA WATER: Aeterna Water brings a revolutionary and ecological approach to water and water based beverages (still and sparkling) for hotels, restaurants, institutions, offices, retail environments and residences. Using state of the art technology, the Aeterna Waterwave Systems™ respect the environment, eliminate the negative impact of traditional water in bottles and jugs, create zero waste water, have fully recyclable filtering, and obtain a competitive cost per liter over other forms of bottled beverages. Delivered and carbonated seconds before use, purity and freshness are at their optimum. Aeterna is a carbon footprint conscious business that is paperless, using digital media for all its transactions. A portion of its sales goes directly to charities that support environmental causes, such as the Surfrider Foundation.
For more information contact:
A.T. & F. LLC
dba Aeterna Water
5151 Collins Ave, Suite CU-224
Miami Beach, FL 33140
T:1.866.866 water
E:info(at)aeternawater(dot)com
http://www.aeternawater.com
Aeterna Water and all Aeterna Water product names and logos are trademarks or registered trademarks of Aeterna Water or its subsidiaries in the United States and in other countries. Names of products from other vendors mentioned in this document may be trademarks or registered trademarks of their respective owners. Except for the historical information contained herein, matters discussed in this news release may constitute forward-looking statements that involve risks and uncertainties that could cause actual results to differ materially from those projected.
###