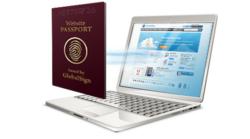 "The Internet has become a minefield of fake and fraudulent websites, and the GlobalSign Passport is an essential tool for legitimate sites to build trust with their customers", said Paul Tourret, GMO GlobalSign Limited
London, UK (Vocus/PRWEB) March 18, 2011
GlobalSign (http://www.globalsign.co.uk), one of the longest established Certification Authorities (CA) and specialists in SSL security, today announced that major UK partner 123-reg is launching the new GlobalSign Website Passport product at the FSB Conference in Liverpool from the 17th to the 19th of March. The Website Passport is an innovative product that allows website owners to conveniently prove their verified identity to users to help establish online credibility, and as such represents the ideal complement to 123-reg's product portfolio.
The GlobalSign Website Passport allows website owners to present visitors with a collection of website and company information vetted by the GlobalSign Certificate Authority – all accessed with a single click. Website owners can conveniently display the easy to understand and standardised identity information on all web pages using minimal space via the Passport Site Seal, and gain instant credibility. The Passport can be customised by the website owner, choosing from an array of trust-enhancing "apps". The first batch of apps includes official company information, Web of Trust (WOT) ratings and malware distribution monitoring, the latter of which alerts website owners if their site has been hacked and is unknowingly distributing hidden malware. This alert service facilitates timely removal of any injected code before the website is flagged or blacklisted by search engines. 123-reg will be offering Website Passports as a standalone product to allow all organisations with an online presence to establish their identity, and protect themselves and their customers from malware threats.
We are delighted to be exhibiting at the FSB event (stand 26), giving us the opportunity to showcase our products to Members attending the event. As a business we are committed to helping people get online, and we believe the FSB event represents the ideal opportunity to do so, whilst also launching our new and innovative Website Passport product" commented Thomas Vollrath, CEO of 123-reg.
"We are delighted to see 123-reg complement its portfolio with the latest GlobalSign innovation in delivering online trust. The Internet has become a minefield of fake and fraudulent websites, and the GlobalSign Passport is an essential tool for legitimate sites to build trust with their customers", said Paul Tourret, GMO GlobalSign Limited. "123-reg is once again going the extra mile to help their customers drive traffic to their websites, enhance engagement and conversions, minimise abandonment and protect the website from malware injection attacks and potential removal from Google search results."
Since joining the GlobalSign Partner Program in March 2009, 123-reg has successfully added the GlobalSign SSL Certificate solutions to its product range, showing the company's commitment to its customers' security. 123-reg hosted customers can already benefit from GlobalSign's 2048bit SSL technology to ensure secure ecommerce transactions, safe in the knowledge that they are using a highly trusted and well established SSL provider and Certification Authority. The GlobalSign Website Passport will be added to the suite of online security products currently offered and provide customers with the ultimate website trust solution.
For more information about the Website Passport, please visit http://www.globalsignpassport.com
About 123-Reg
123-reg is the UK's top domain registrar, registering every fifth .co.uk domain. It leads the market in both domain name registration (2.5 million domains) and web hosting solutions. With extensive experience of the industry, the company is able to offer high quality, technically advanced yet cost-effective products to a wide range of customers. 123-reg UK was voted third most popular web host in July 2010 by Web Host Directory and ninth in its Best Ten Web Hosting awards (April 2010). http://www.123-reg.co.uk is part of the UK's leading web hosting group and 2010 Sunday Times Deloitte Buyout Track 100 company, Webfusion. The group also consists of http://www.webfusion.co.uk, http://www.corporate.webfusion.co.uk. http://www.donhost.co.uk and http://www.supanames.co.uk, each making every step of setting up online as easy as 1, 2, 3.
About GlobalSign
Established in 1996 and as a WebTrust accredited public certificate authority, GlobalSign offers publicly trusted SSL Certificates, EV SSL, Managed SSL Services, S/MIME email security and Code Signing for use on all platforms including mobile devices. Its Trusted Root solution uses the widely embedded GlobalSign Root CA certificates to provide immediate PKI trust for Microsoft Certificate Services and internal PKI, eliminating the costs of using untrusted Root Certificates. Its partnership with Adobe to provide Certified Document Services (CDS) enables secure digitally signed PDF documents, certified transcripts and e-invoices. These core Digital Certificate solutions allow its thousands of authenticated customers to conduct secure online transactions, data transfer, distribution of tamper-proof code, and protection of online identities for secure email and access control. The company has a history of innovation within the online security industry and has offices in the US, UK, Belgium, Japan, and China.
GMO Internet Group
GMO Internet Group, headquartered in Japan, is a leading force in the Internet industry offering one of the most comprehensive ranges of Internet services worldwide. The group holds top domestic market share in domain registration, web hosting, and payment processing and provides a host of other Internet services including global online security services, e-commerce solutions, and Internet advertising to both businesses and individuals. At the centre of the group is GMO Internet, Inc. a company listed on the prestigious first section of the Tokyo Stock Exchange. Please visit http://www.gmo.jp/en for further details.
For further details please contact:
Steve Waite
GlobalSign
+32 16 891900 / +44 1622 766766
press(at)globalsign(dot)com
###