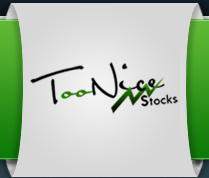 With these two catalysts coming extremely soon, TooNiceStocks expects elevated interest from potential investors eying Adeona Pharmaceuticals's
(Vocus/PRWEB) March 18, 2011
TooNiceStocks research uncovered that Adeona is expected to complete its prescription medical food trial on reaZin for Alzheimer's disease and mild cognitive impairment by the end March 2011. In addition, on March 3rd, 2011 the company announced as part of a press release, the data would be presented in a poster presentation at the American Academy of Neurology Annual Meeting on April 14, 2011 at the Hawaii Convention Center in Honolulu, Hawaii.
On February 8th, 2011, the company announced that all sixty of their patients were enrolled in their clinical study evaluating reaZin. In this study, patients were evaluated three and six months after they began the once-daily treatment or placebo. TooNiceStocks believes those patients should complete their six-month trial by the end of March 2011. If successful, TooNiceStocks thinks Adeona Pharmaceuticals Inc. could make its product available as a prescription medical food likely sometime later in 2011.
Digging Deeper into Adeona Pharmaceuticals Inc. Pipeline and Possibilities.
TooNiceStocks believes that because Adeona's product is a medical food and not a drug, though it is subject to the labeling requirements of the Federal Food, Drug, and Cosmetic Act, they do not need pre-market review or approval by the FDA. This trial, TooNiceStocks believes is mainly for the purpose of the company determining the legitimacy of their product and to gather data to be presented to peer groups of dieticians, pharmacists, investors and doctors in order to show efficacy and tolerability. TooNiceStocks also believes the company hopes to show convincing data to indicate that the product will help maintain and even improve the mental and physical functions of those suffering from Alzheimer's and mild cognitive impairment. Mild cognitive impairment is an intermediate stage between the normal cognitive decline of aging and the more dramatic decline of dementia. It includes problems with memory, language, thinking and judgment that are more than typical age-related changes.Unfortunately, both indications for reaZin have a huge market potential. TooNiceStocks research uncovers that in 2010, roughly 5.3 million Americans had Alzheimer's disease. A recent report by the Alzheimer's Association noted that every 71 seconds somebody develops Alzheimer's disease. With the baby boomer generation aging, that number will likely only increase in the coming years.
With the second and final part of this trial expected to complete in the next couple of weeks, TooNiceStocks expects to see elevated interest, especially with no fear of an FDA panel review or FDA rejection. Their prescription food product, termed reaZin, is a proprietary oral tablet formulation of zinc and cysteine, an amino acid with potent anti-oxidant properties. TooNiceStocks research uncovered that on April 14th, 2010, Adeona presented results from part one of this trial termed "CopperProof". TooNiceStocks research found the data to be very convincing and if the results for the end of the second trial end up being similar. Then physicians, pharmacists and dieticians could be very persuaded by the data and strongly consider reaZin as part of their treatment for the targeted patients. In addition, the data indicated a much lower incidence of side effects for Zinthionein ZC (since renamed reaZin) versus Galzin, the currently marketed zinc supplement (zinc acetate) often utilized for the same indication. The high levels of gastrointestinal side effects of Galzin were consistent with previous studies and with the labeling of the product. In contrast, only 33% of Zinthionein ZC patients experienced nausea. Additionally, the bio-availability of zinc from reaZin was also superior with elevated levels of over 80% above baseline of zinc in blood serum, a key indicator of the product doing its job.
The end of the 2nd and last part of the reaZin trial can be considered by TooNiceStocks as a near term catalyst, but also the data analysis for this 60 patient data set will not take as long as an FDA drug data analysis would typically take. As recent as March 3rd, the company announced as part of a press release that the data would be presented in a poster presentation at the American Academy of Neurology Annual Meeting on April 14, 2011 at the Hawaii Convention Center in Honolulu, Hawaii. A concurrent press release will also be distributed. TooNiceStocks think it's very interesting and even ironic that on the one-year anniversary of the very positive data presentation by Adeona Pharmaceuticals in the completed first part of the study in 2010, they will be presenting the final data set to the medical community.
With these two catalysts approaching, TooNiceStocks expects once again to see elevated interest from potential investors eying Adeona Pharmaceuticals' Inc. Moreover, TooNiceStocks sees a lot of potential in Adeona Pharmaceuticals for the medical community, patients and investors alike. Now depending on how convincing this data to be unveiled on April 14th 2011 is and what other types of developments are mentioned in the concurrent press release, expect Adeona to attract investors' attention once again. Share structure has changed since the first part of the trial completed almost a year ago with the $4 million offering announced in January of this year. Remember this is the market, anything is possible.
Thanks,
http://www.TooNiceStocks.com
"Finding Value in the Undervalued"
Every week we have our very popular technical reports. We work hard to research promising companies in all exchanges. Please join us for daily chatter. Real Traders + Real Research.
TooNiceStocks.com in no way has been compensated for advertising, marketing or profiling Adeona Pharmaceuticals Inc., rather we have initiated our own independent research. The data stated in our research article is derived from publicly disseminated information. None of the profiles issued by TooNiceStocks.com, constitutes a recommendation for any investor to purchase or sell any particular security or that any security is suitable for any investor. Any investor should determine whether a particular security is suitable based on the investor's objectives, other securities holdings, financial situation needs, and tax status. Examples presented on TooNiceStock.com website are for educational purposes only. Such set-ups are not solicitations of any order to buy or sell. Accordingly, you should not rely solely on the Information in making any investment. Rather, you should use the Information only as a starting point for doing additional independent research in order to allow you to form your own opinion regarding investments. Please note well that TooNiceStocks.com employees are not Registered as an Investment Advisor in any jurisdiction whatsoever. Full disclaimer can be read http://www.toonicestocks.com.
###