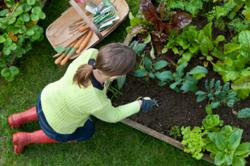 We're so excited about the launch, which falls in the same month that my dad and uncle started the business exactly 50 years ago
(Vocus/PRWEB) 20 March 2011
Healthy, rewarding and eco-friendly; growing your own fruit and vegetables has its many benefits, but what if you don't have the time, energy, knowledge or garden for that matter? Deans' Nursery based at Mill Farm on the Suffolk and Essex border, has designed a ready-made solution.
Plot in a Box, a self-assembly raised bed complete with all you need to grow your own, is the brand new innovation from Deans'. From just £95, the package includes a 100x100x24cm raised bed (larger sizes available), two x 100 litre reusable garden bags filled with Deans' enriched topsoil blend, controlled release fertilizer, a 60 litre bag of manure and a choice of seeds, seedlings and plants from a recommended selection.
Making its first appearance at the Suffolk Spring Garden Show, 22-25 April 2011, Plot in a Box is expected to attract many gardening enthusiasts as well as first-time buyers, restaurateurs, schools, property developers and those who may be restricted by courtyard gardens.
"The best thing about Plot in a Box is that it allows anyone, anywhere to grow their own fresh, quality, fruit and vegetables – and you don't have to be a gardening expert; we'll provide everything you need," said Sarah Dean, manager of Deans', which is celebrating its 50th anniversary this April. "We're so excited about the launch, which falls in the same month that my dad and uncle started the business exactly 50 years ago."
Sarah and the team at Deans' worked closely with local timber merchant, Anglian Timber, to produce the framework for Plot in a Box. "We wanted to make sure the structure of the raised bed matched the quality of its contents, which is why we have used the trusted expertise of Anglian Timber," said Sarah. "It's designed for easy slot-assembly so customers will have their Plot in a Box doing its job in no time!"
To get your Plot in a Box, visit Deans' Nursery at the Suffolk Spring Garden Show, call 01206 250 485, or visit their website: http://www.millfarm.org. Delivery can be arranged.
# # #