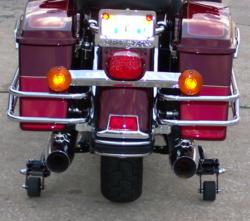 'This is the most ingenious thing I have ever seen on a Motorcycle!', quipped one visitor.
Longwood, Florida (Vocus/PRWEB) March 23, 2011
Chopper Design Services, manufacturer of the LegUp LandinGear Motorcycle Stabilization System, presented their products at Bikeweek 2011 in Daytona Beach Florida.
People who have never seen this unique product had a chance to see it up close, and discuss their needs with the designers of the system.
LegUp LandinGear is a computer controlled motorcycle stabilization system. A set of wheels lowers as a motorcycle is stopping to help the rider better balance his/her heavy bike. As the vehicle accelerates, the wheels retract, allowing the rider to lean the vehicle, unimpeded.
Reaction was strong from the thousands who visited the companies' display. Older riders and others with physical limitations that make slow-speed maneuvering of heavy motorcycles difficult, were happy to find an alternative to three wheel vehicles or giving up riding altogether!
Chopper Design Services has been manufacturing the LandinGear System for over two years with hundreds of systems sold worldwide.
More information about LegUp can be found at: LandinGear.com.
# # #