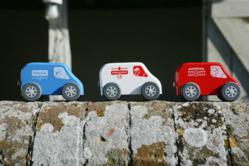 these wooden toys are designed to provide hours of fun
(Vocus/PRWEB) 20 March 2011
Wooden cars offer a simplicity that takes a lot of beating. There's nothing to go wrong, no batteries to run down, no small parts to lose and no annoying sound effects, except those supplied by the child. There's just one hundred per cent long-lasting, imaginative play.
Psychologists have been studying child development for over 100 years from the early experiments of Freud and Piaget to modern highly controlled tests. Recent research looking at the play value of traditional versus electronic toys has highlighted the limiting factor of the defined start and end of most electronic games, as opposed to traditional toys that allow for free development of open-ended play ideas.
Bumblebee Toys, (bumblebeetoys.co.uk) a new online toyshop, has carefully selected a range of wooden vehicles that open up limitless play scenarios for the imaginative child to create different worlds and adventures, both indoors and out. These simple uncomplicated toys offer children hours and hours of fun and parents great value for money.
Traditionally manufactured in continental Europe, the sturdy and durable wooden toys comprise three different emergency vehicles that can come to the rescue of the range of four racing cars and three mini cars and trucks.
Made for heavy duty play, the all-wood vehicles are finished with high quality, brightly coloured, durable non-toxic paint. At 6.5cm long for the mini cars, and 10cm long for the bigger vehicles, they are exactly the right size and shape for small hands to hold and push along.
The Flizzi mini cars and trucks are just £2.99 each, while the bigger ambulance, fire truck, police car and racing cars are £4.95. All are available from the Bumblebee Toy website http://www.bumblebeetoys.co.uk.
Bumblebee Toys is a family company specialising in high quality toys made in the UK and Europe. While its products are only available online, its website aims to give the customer the experience of a friendly toy business with the convenience of modern internet shopping. All its products are sourced from manufacturers using sustainable and recyclable materials, who share the company's passion for innovative toys designed to stimulate, entertain and educate the modern child.
For more information visit http://www.bumblebeetoys.co.uk
Press Enquiries:
Toni Turner or Alison Haynes at The Publicity Works
Tel: 01263 761000
Email: bumblebeetoys(at)publicityworks(dot)biz
For more news about Bumblebee Toys visit the press office at http://www.publicityworks.biz
Stephen Watts at Bumblebee Toys: Stephen(dot)Watts(at)bumblebeetoys(dot)co(dot)uk
# # #