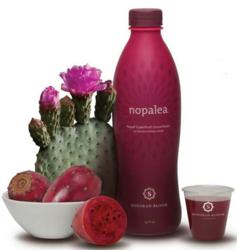 Scottsdale, AZ (PRWEB) March 24, 2011
Nopalea, the anti-inflammatory wellness drink from TriVita, can help the body detoxify naturally by supporting the body's natural detoxification processes.
In today's world, people are bombarded by toxins from all areas of life: chemicals in food, water and air, cleaning products, pesticides, herbicides and other environmental pollutants. Many solutions have been suggested for dealing with these toxins – everything from sweat spas and extreme diets to colon cleanses. But these methods are unproven and potentially harmful.
Nopalea helps detoxify the body by supporting the body's natural detoxification processes, many of which occur in the liver and kidneys. The liver performs many vital functions, including creation of bile, production of clotting factors and proteins, regulation of glucose in the blood and storage of extra sugar, vitamins and minerals. The liver also plays a key role in body detoxification. Enzymes in the liver help break down toxins in the bloodstream, which are then excreted into the bile or blood. Bile by-products enter the intestine and eventually leave through the stool. Blood by-products head toward the kidneys.
The kidneys work to keep the blood clean and chemically balanced. The kidneys process about 200 quarts of blood each day, sifting out about two quarts of waste and extra water, which become urine. Waste in the blood comes from food and the normal breakdown of tissue. After the body takes what it needs from food, the waste is sent to the blood. Units in the kidneys called nephrons filter out this waste, keeping normal proteins and cells in the bloodstream. There are around a million nephrons in each kidney. If the kidneys did not filter waste, it would build up in the blood and damage the body.
Now there is a way to help detoxify the body naturally, without resorting to extreme diets or uncomfortable and questionable procedures: Nopalea from TriVita. Nopalea contains rare, potent nutrients called Betalains. All Betalains are anti-toxin but one of the most important Betalains for detoxification is beta xanthine. Beta xanthine helps detoxify the body by aiding its natural detoxification processes; it helps neutralize both external and internally created toxins. Additionally, Nopalea can help the body reduce inflammation, which can result from daily toxin exposure.
TriVita launched Nopalea in June 2009, and it has since become their best-selling product. TriVita is a Scottsdale-based wellness company that encourages people everywhere to experience wellness®: physically, emotionally and spiritually. Learn more about Nopalea at nopalea.com.
These statements have not been evaluated by the Food and Drug Administration. This product is not intended to diagnose, treat, cure or prevent any disease. Children, women who are pregnant or nursing, and all individuals allergic to any foods or ingredients should consult their healthcare provider before using this product. You should not stop taking any medication without first consulting with a healthcare provider.
# # #