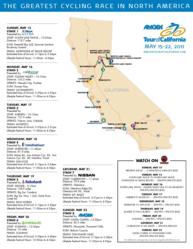 Lake Tahoe, Calif./Nev (Vocus/PRWEB) March 21, 2011
The party starts at the top too! Lake Tahoe is hosting a 10-day celebration as a countdown before the largest cycling event in North America, the 2011 Amgen Tour of California, with concerts, family activities and bike-related events, May 5-14, in preparation for the Stage 1 Start and Finish of the race (May 15) and the Stage 2 Start (May 16).
Lake Tahoe Basin residents and cycling enthusiasts are pumped to make Tahoe's 10-Day Countdown to the tour special and like no other event with Cinco de Mayo parties, the Opening Gala and Team Introduction, Lake Tahoe Legends Ride, Spirit Bike Parade, wine dinners, showroom entertainment, live music and more. The tour's Local Organizing Committee invites visitors and residents to grab their bike helmets and hold on as the countdown to the tour begins…
Ten (May 5)…
The Hard Rock Cafe at Harveys Lake Tahoe is hosting the official Amgen Tour of California kick-off party, Friday, May 5, with percentage of the evening's proceeds donated to Amgen's title sponsor, Breakaway from Cancer, an initiative that helps empower people affected by cancer.
Observing the May 5 kickoff, what better way to celebrate than going to as many Cinco de Mayo parties as possible? The Blue Agave, Tahoe Biltmore Lodge & Casino and the Crystal Bay Club Casino are all hosting festive parties to commemorate the launch of the 2011 Amgen Tour of California.
Nine (May 6)…
Sammy Hagar and the Wabos will be playing at Harrah's South Shore Room on Friday, May 6 and Saturday, May 7, while the historic Bar of America in Truckee will host DJ Zeb Early.
Eight (May 7)…Tahoe's nightclubs will be stocked and ready for weekend partiers. Opal, Vex and Crystal Bay Club, along with the Village at Squaw Valley, will keep the beats bumping May 6-7 and 13-14.
Seven, Six, Five (May 8-10)…
At South Shore casinos throughout the week, visitors and locals can view One Voice Starring Bethany Owen at the Horizon, The Improv at Harveys with host and emcee Howie Nave, and the infamous Party with Arty at Harrah's South Lake Tahoe. TahoeAmgenTourofCalifornia.com.
During the 10-day countdown, live music can be found at various venues around the lake, including: Cabo Wabo Cantina, Mc P's Pub, Crystal Bay Club Casino and Bar of America. TahoeAmgenTourofCalifornia.com.
Four (May 11)…
The Biking for a Better World Winemaker Dinner is Wed., May 11 at PlumpJack Squaw Valley Inn. Dinner will support an organization that brings accessibility to communities in need around the world. Details: http://www.plumpjacksquawvalleyinn.com.
Three (May 12)…
The Slow Rollers Bicycle Club presents the Spirit Bike Parade where all types of bikes and costumes are encouraged – almost mandatory. Bikes will be rolling from the "Y" (the intersection of HWY 89 and HWY 50) across town to the Stage 1 Start at MontBleu Resort Casino & Spa, on May 12. Details: http://www.slowrollers.net/.
In North Lake Tahoe, the Squaw Valley Institute hosts "Soulcycler, Around the World Bike Tour" with local photographer/cycling enthusiast, Rick Gunn.
Barton Health 2011 Lecture Series features topics ranging from nutrition, preventing injuries, maximizing performance and more. A local professional trainer will present 'Pedaling to Peak Performance' at Embassy Suites, May 12, 6 – 8 p.m.
Two (May 13)…
The Opening Gala and Official Team Introduction is Friday, May 13 at MontBleu Resort Casino & Spa. For a black tie evening attendees will get to rub elbows with the pros, indulge in a four-course meal, host bar and silent auction. For tickets and details: 2011 Race Opening Gala.
The Village at Squaw Valley will hosts a free outdoor cycling movie, Breaking Away (1979), directed by Peter Yates and starring Dennis Quaid. And at the Crystal Bay Club, Jackie Greene and Band will have you moving and grooving until the early morning hours.
One (May 14)…
The inaugural Start at the Top – Lake Tahoe Legends Ride, allows cycling enthusiasts to ride the Stage 1 first lap and compare their time to the pros, Saturday, May 14. Details: http://www.BiketheWest.com.
The North Lake Tahoe Bike Swap, the Tahoe City Street Dance: right downtown, right under the stars and the 3rd Annual Wellness Weekend at the Hyatt Regency Lake Tahoe all take place on May 14.
Eric Burdon & the Animals will be playing at Harrah's South Shore Room on the eve of the Stage 1 start, Saturday, May 14.
Throughout the first day of the race, various events will be taking place between the north and south shores of Lake Tahoe. For full details and a schedule of events: TahoeAmgenTourofCalifornia.com
Amgen Tour of California Overall Start…(May 15)
Stage 1 of the 2011 Amgen Tour of California is Sunday, May 15. The peloton begins at its highest start elevation in six years, 6,300 feet above sea level in South Lake Tahoe. After a lap and a half around the Lake, Stage 1 finishes at Northstar-at-Tahoe Resort. Stage 2 starts at Squaw Valley USA on Monday, May 16.
As part of the Stage 1 start on May 15, a special program, Breakaway from Cancer, will honor a Lake Tahoe cancer survivor, patient, caregiver or advocate who has made a difference within their community or proved an inspiration. In addition to leading the walk just prior to the Stage 1 finish at Northstar-at-Tahoe Resort, Lake Tahoe's designee, a resident of the area, will receive special access to the tour, podium recognition and presentation ceremony involvement. Nominations from the public will be accepted at BreakAwayFromCancer.com Champions through Tuesday, March 22.
The Lifestyle Festival is May 15, 11 a.m. – 6 p.m., at the Stage 1 Finish at Northstar-at-Tahoe, and will feature a health and fitness expo, cancer awareness education, cycling gear, family activities, bike safety, food and entertainment.
The 2011 Amgen Tour of California will cover nearly 800 miles and visit 15 Host Cities for official stage starts and finishes, while other cities along the route also will have the opportunity to witness the excitement of elite professional cycling. Stages for the 2011 Amgen Tour of California include:

Stage 1, Presented by Michelob Ultra: Sunday, May 15 – South Lake Tahoe to North Lake Tahoe-Northstar at Tahoe Resort
Stage 2, Presented by the California Travel and Tourism Commission: Monday, May 16 – North Lake Tahoe-Squaw Valley USA to Sacramento
Stage 3: Tuesday, May 17 – Auburn to Modesto
Stage 4, Presented by UnitedHealthcare: Wednesday, May 18 – Livermore to San Jose
Stage 5, Presented by Rabobank: Thursday, May 19 – Seaside to Paso Robles
Stage 6, Presented by Herbalife: Friday, May 20 – Solvang Individual Time Trial
Stage 7, Presented by Nissan: Saturday, May 21 – Claremont to Mt. Baldy
Stage 8, Presented by Amgen: Sunday, May 22 – Santa Clarita to Thousand Oaks
For best viewing points, where to catch the riders up close, a complete list of events and lodging accommodations, click to http://www.TahoeAmgenTourofCalifornia.com follow us on Twitter and Facebook. For details about the Tour and information about volunteering, visit http://www.amgentourofcalifornia.com.
The Amgen Tour of California Media Contacts:

AEG: Michael Roth; 213-742-7155; mroth(dot_aeg-la(dot)com
GolinHarris: Erin Barrier; 213-438-8707; ebarrier(at)golinharris(dot)com
Lake Tahoe Interview Contacts:

Andy Chapman, Tourism Director, North Lake Tahoe Resort Association: andy(at)puretahoenorth(dot)com, 530-581-8709, 530-448-9992 (cell)
Carol Chaplin, Executive Director, Lake Tahoe Visitors Authority: carol(at)ltva(dot)org, 775-588-5900 ext. 302, 775-790-5787 (cell)
Lake Tahoe Media Contacts:

Pettit Gilwee, Pettit Gilwee Public Relations, 530-525-1164, 530-412-2077 (cell), pettit(at)gilweepr(dot)com
Phil Weidinger or Jenn Boyd, Weidinger Public Relations, 775-588-2412, 702-278-1932 (cell) jennifer(at)weidingerpr(dot)com
About the Amgen Tour of California
The largest cycling event in America, the 2011 Amgen Tour of California is a Tour de France-style cycling road race, presented by AEG, that challenges the world's top professional cycling teams to compete along a demanding course from May 15-22, 2011.
About Amgen
Amgen discovers, develops, manufactures and delivers innovative human therapeutics. A biotechnology pioneer since 1980, Amgen was one of the first companies to realize the new science's promise by bringing safe and effective medicines from lab, to manufacturing plant, to patient. Amgen therapeutics have changed the practice of medicine, helping millions of people around the world in the fight against cancer, kidney disease, rheumatoid arthritis, and other serious illnesses. With a deep and broad pipeline of potential new medicines, Amgen remains committed to advancing science to dramatically improve people's lives. To learn more about our pioneering science and vital medicines, visit http://www.amgen.com.
About Breakaway from Cancer
Founded in 2005 by Amgen as a complementary component to the company's title sponsorship of the Amgen Tour of California, Breakaway from Cancer® is designed to help empower people affected by cancer. Breakaway from Cancer supports the services of four nonprofit organizations: Prevent Cancer Foundation, Cancer Support Community (formerly known as The Wellness Community), Patient Advocate Foundation and National Coalition for Cancer Survivorship. For more information, please visit http://www.breakawayfromcancer.com.
About AEG
AEG is one of the leading sports and entertainment presenters in the world. AEG, a wholly owned subsidiary of The Anschutz Company, owns or controls a collection of companies including facilities such as STAPLES Center, The Home Depot Center, Sprint Center, The O2, Nokia Theatre L.A. LIVE and Times Square's Best Buy Theater; Square; sports franchises including the Los Angeles Kings (NHL), two Major League Soccer franchises, two hockey franchises operated in Europe, management of privately held shares of the Los Angeles Lakers, the Bay to Breakers foot race and the Amgen Tour of California cycling road race; AEG LIVE, the organization's live-entertainment division, is a collection of companies dedicated to all aspects of live contemporary music performance, touring and a variety of programming and multi-media production. For more information, visit AEG today at http://www.aegworldwide.com.
About the Lake Tahoe Visitors Authority
Set at 6,300', South Lake Tahoe is the only destination in the country that combines two strikingly different worlds: spectacular natural beauty and desirable resort amenities. The combination of outdoor summer activities includes hiking, biking, kayaking, golfing, swimming, fishing and boat cruises along with 24-hour nightclubs, fine dining, gaming and entertainment. For information about lodging, recreation and family packages at Lake Tahoe South Shore, call the Lake Tahoe Visitors Authority, 1-800-AT-TAHOE (1-800-288-2463) or log onto http://www.TahoeSouth.com.
About NLTRA
North Lake Tahoe is one of the country's leading outdoor destinations, offering the largest concentration of ski resorts, the famed mountain biking Flume Trail, Summerlong Music Series (free, live outdoor concerts daily, except Mondays) and exquisite cuisine. North Lake Tahoe is a 45-minute drive from the Reno Tahoe International Airport, two hours from Sacramento International Airport and just over three hours from San Francisco International Airport. For lodging reservations, recreation and event details, call North Lake Tahoe at 1-877-949-3296 or visit http://www.GoTahoeNorth.com. Visitor information centers are located at 380 North Lake Boulevard in Tahoe City and 969 Tahoe Boulevard in Incline Village. The North Lake Tahoe Visitors Bureaus, Incline Village Crystal Bay Visitors Bureau and the North Lake Tahoe Resort Association, work together to promote North Lake Tahoe as a premier, year-round destination.
###