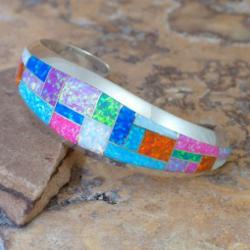 Opals are stylish and fun. Their inclusion in Native American jewlery has become amazingly popular with Native American Jewerly lovers.
(Vocus/PRWEB) March 25, 2011
TurquoiseCanyon.com presents their top 3 trends in modern Native American jewelry.
TurquoiseCanyon.com continues to discover new trends in Native American Jewelry. A continued surprise is the harmony that has been found between trendy new styles and the classic designs from decades ago. Native American Jewelry designs continue to evolve and transform creating modern and stylish designs that maintain a truly classic Native American esthetic.
For this story TurquoiseCanyon.com has highlighted 3 of their top new trends in Native American Jewelry.
1. Jewelry featuring modern cut opals mixed with classic stones are extremely popular and have found their way to the top of this list. Jewelry artists have begun to make bold statements by mixing the most modern of opal gemstones with classics such as turquoise and oyster shells. This combination results in jewelry that is colorful, fun and represents a trendy view of a classic style.
2. Petroglyphs are a contemporary throwback and represent the number two bestseller and most popular modern style. Petroglyphs are the canyon wall drawings of Native Americans dating back thousands of years. Their simple and easily recognizable designs have suddenly become as stylish as any other design from recent years. The shapes are cut out of sterling silver and applied to simple geometric backgrounds to form pendants, earrings, bracelets, and rings. Add a gemstone or two and you have a new look crafted with centuries old designs.
3. Santo Domingo necklaces with chunky stones round out our top 3 list. Although Santo Domingo necklaces have been popular for more than a century, the recent inclusion of large chunky stones into their classic designs have created a fun modish look that can stand beside any of the classic pieces.
TurquoiseCanyon.com opened its store in April of 2005 and specializes in enjoying the artistry and skill of all things Native American. From Native American Indian jewelry to kachinas and pottery, TurquoiseCanyon.com continually seeks to find Native American artists that represent both a classic and a modern view of Native American jewelry and culture. TurquoiseCanyon.com offers only the highest quality genuine Native American hand crafted items, each with a certificate of authenticity.
###