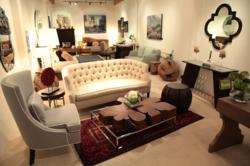 "beautiful furniture for the
environmentally conscious"
San Francisco, CA (Vocus/PRWEB) March 24, 2011
Dekayu, a San Francisco green furniture manufacturer that uses non-toxic wood and natural and organic upholstery materials, is all set to exhibit at the renowned High Point Market trade show being held at the Suites at Market Square Building in High Point, North Carolina on April 2nd through 7th. The trade show is the furnishing industry's largest, attracting an industry crowd of 85,000 people. Dekayu will occupy booth M-5027 at the Suites at Market Square Building.
High Point Market features the world's most comprehensive selection of home furnishing products on the planet. It is a place where designers and furniture enthusiasts can see tomorrow's developing home furnishing trends.
One growing trend sure to be on display at High Point is environmentally friendly furniture. Dekayu is ahead of the curve when it comes to green furnishings, having designed and made eco-friendly furniture since 2004. They are excited to offer green and eco-friendly furniture alternatives at High Point so that buyers can make more environmentally friendly options available to the consumer. Dekayu envisions creating an interior environment that is beautiful, healthful, and relaxing.
"As a mother of three young children, I care about creating a healthy living environment for my family and for yours," states Thesia Bowo, owner of Dekayu. "It is important to have a beautiful nurturing home environment to offset our hectic daily lives."
Dekayu's green upholstery line includes such features as Forest Stewardship Council (FSC)-certified frames made from solid reclaimed, recycled and salvaged wood. Their natural latex foam cushioning comes with either down feather or cotton batting to wrap the foam and the choice of natural fiber materials that can also be organic.
The Dekayu showroom is located at the prestigious San Francisco Design Center and is the only all-green showroom at the SFDC. In addition to the existing product line, Dekayu is able to create custom designs for a client's design needs. They can even provide a 3D computer-generated image to help customers visualize and finalize the details.
Dekayu believes in a paradigm of creativity through collaboration and the importance of a caring global perspective. The company is an active member of the Sustainable Furniture Council.
For more information about the upcoming High Point Market exhibition Dekayu's green furniture, please call (415) 626-1888, visit their website http://www.dekayuhome.com, or come to the Dekayu showroom located at the San Francisco Design Center at 2 Henry Adams St. #325 in the Showplace Building. The showroom is open Monday through Friday from 9am to 5pm and the public is welcome.
About Dekayu
Dekayu is a San Francisco environmentally friendly furniture company. Dekayu creates beautiful green and eco-friendly serene environments. Their chic furniture includes reclaimed, recycled, and salvaged wood and upholstery. They also have the ability to create custom pieces for individual design requirements. Dekayu provides sustainable furniture to the San Francisco Bay Area and can ship anywhere in the world. Dekayu creates beautiful furniture for the environmentally conscious.
# # #