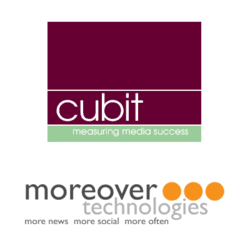 ...Cubit-Newsdesk, a first-ever multi-lingual news and social media monitoring capability for the Asia-Pacific Region.
Reston, VA (Vocus/PRWEB) March 29, 2011
Cubit Media Research and Moreover Technologies today announced a strategic partnership to bring a global, online news and social media monitoring platform to the Asia-Pacific Region.
Cubit is one of the Asia-Pacific Region's most experienced media analysis providers, delivering services that help organisations measure their media success and communicate more effectively. Moreover Technologies is a global leader in online news and social media content aggregation.
Cubit's partnership with Moreover Technologies introduces Cubit-Newsdesk, a first-ever multi-lingual news and social media monitoring capability for the Asia-Pacific Region. Cubit-Newsdesk is modeled on the award-winning Newsdesk 4 news and social media discovery, refinement and sharing tool that pinpoints the most relevant content on the web, and delivers it right to the desktops of its audience.
Newsdesk 4 recently won two prestigious CODiE awards from the Software & Information Industry Association (SIIA) for "Best Content Aggregation Solution" and "Best Information Solution."
Using Cubit-Newsdesk, clients gain complete control over how they search, sort, and share news and social media content, with the ability to carry out web and social media analysis on the spot. Resulting insights drive better-informed decision-making.
Cubit-Newsdesk's easy-to-use faceted search tools and real-time media analysis give users everything they need to target important news and commentary right away. The result is a powerful business intelligence solution, consolidated into one portal and one process.
Commenting on the new service, Warren Weeks, founder and CEO of Cubit said: "Other variants of Newsdesk have already proven themselves to be incredibly valuable media research tools elsewhere around the world, used by professional communicators, executives, and agencies alike. I'm excited to be able to bring this exceptional information platform to the Asia-Pacific Region.
"The combination of speed, ease of use, multi-lingual search capacity, and affordability makes Cubit-Newsdesk the logical media monitoring choice for any organisation in the region. And the ability to have your monitoring flow through to a proven media analysis system will make it even easier for organisations to apply this kind of advanced media intelligence."
Paul J. Farrell, Moreover Technologies President, added: "Right from our first discussions with Cubit, it was clear that both our companies are keen to deliver great products to our clients. I'm very happy that together we can bring Cubit-Newsdesk to market - providing Asia-Pacific clients with a single multi-language platform for news and social media. Its user-friendly filters rapidly identify relevant results from millions of daily news articles and social media posts, and its powerful sharing tools - including automated alerts, newsletters and editorial feeds - will deliver significant new insights and productivity gains to users right across the region.
"The arrival of Cubit-Newsdesk in the Asia-Pacific Region, and the ability for clients to incorporate content into Cubit's analysis offerings attest to the synergy that can be created when two companies collaborate to create improved value for end-clients."
About Cubit Media Research
Founded in 1995, Cubit Media Research is one of the Asia-Pacific Region's most successful boutique media analysis houses. Over the past fifteen years, the company has worked with many hundreds of blue-chip private sector and government clients. Cubit's advanced media analytics have been used by organisations in Australia, New Zealand and across Asia, as well as in the USA and Europe. The company's developments in the area of media research, and in particular on the media's impact on business outcomes and corporate reputation, have been the subject of papers in journals such as the MIT-Sloan Management Review.
The company is based in Melbourne, Australia.
About Moreover Technologies
Founded in 1998, Moreover Technologies is a trusted aggregator of global news and social media. Clients include Shell Oil, Sony, Citigroup, Hill & Knowlton, BBC, Kingfisher, Businessweek, Reuters UK, Siemens and Simon & Schuster. Through US and UK offices, the firm offers corporate customers worldwide direct access to comprehensive, yet targeted, real-time business and consumer information from the Web's most read and respected sources. Daily, Moreover Technologies offers unified portal access to 2.2 million news articles and social media posts from 2.2 million+ editorially vetted sources across 100+ countries, 50+ languages and 800+ searchable industry categories.
http://www.moreover.com
# # #