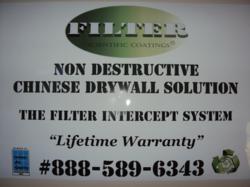 I am happy I located Filter Scientific Coatings and chose them to work for me!
Orlando, Florida (PRWEB) March 19, 2011
Since April 2, 2010 the CPSC has recommended that removal of electrical systems in Chinese drywall affected homes… until today. The CPSC has overturned the previous guideline that instructed all copper wiring must be removed. This decision was predicated on studies completed by Sandia National Laboratory in New Mexico. "Based on this study, CPSC and HUD staff, representing the Interagency Task Force on Chinese Drywall, no longer recommend the removal of all electrical wiring in homes with problem drywall". Please visit http://www.cpsc.gov for the complete document.
With the CPSC's updated "recommended guidelines" the Filter Interceptor System has become a clear alternative to demolishing the home. The Filter Scientific Coatings remediation (Interceptor OC / EX) can be completed in a fraction of the time at a fraction of the cost of demolishing the home. The remediation is completed in a few days with a lifetime warranty.
Filter Scientific Coatings completed another successful Chinese drywall remediation yesterday in Ft. Lauderdale, Florida. "I set an appointment and they were prompt and extremely friendly. They applied the Intercept OC / EX System to my home. When I returned to the home I was so impressed with the outcome. I am happy I located Filter Scientific Coatings and chose them to work for me. The pricing was reasonable and the work was done on time and in an efficient manner. I will definitely recommend them to everyone," stated Gloria F.
Filter Interceptor is an environmentally safe product that is non-carcinogenic, contains no halogen, formaldehyde, or solvents and is low to zero VOC.
Filter Interceptor was founded on the concept of assisting homeowners remediate their homes completely and satisfactorily within a reasonable timeframe for a reasonable cost.
If you'd like more information about this topic, or to schedule an interview, please call Filter Scientific Coatings at 888-589-6343 or e-mail us at interceptoroc(at)gmail(dot)com.
###