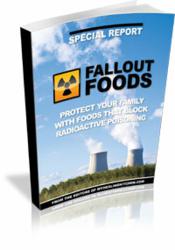 Iodine supplements are the go-to emergency treatment for radioactive poisoning, but these aren't necessary for people living outside a 100-mile radius of the damaged reactors.
Santa Fe, NM (Vocus/PRWEB) March 21, 2011
Americans worried about radioactive fallout released by damaged nuclear reactors in Japan can discover the foods that protect against radiation sickness, in a new report entitled "Fallout Foods That Block Radiation Sickness" just released by the popular nutrition website, http://www.MyHealingKitchen.com.
"The greatest health threat that Japanese fallout presents comes from iodine-131, a radioactive element that causes cancer in the thyroid and other organs," said the website's Food Editor, Jim Healthy. "But this danger is completely neutralized by a number of iodine-rich foods."
The new free report, which is available at http://myhealingkitchen.com/special-report-fallout-foods/, cites studies [http://www.ncbi.nlm.nih.gov/pubmed/15900042 conducted at the International Agency for Research on Cancer, demonstrating that consuming foods rich in natural iodine block this damage and protects the thyroid and other organs by shielding them with a safer, healthier form of iodine—thus preventing radioactive iodine from entering these organs.
Leading the list of these protective foods are seaweed and sea vegetables, the richest sources of naturally-occurring iodine in the food chain. The report also names 12 other, less exotic foods that are significant sources of iodine and therefore protective against radiation sickness and fallout-induced cancers.
In addition, the report names two nutritional supplements that protect against radiation damage and the DNA disruption that leads to certain cancers.
"Iodine supplements are the conventional way to protect against radioactivity, but panic buying has stripped the shelves," says editor Jim Healthy. "These fallout foods are a better option because they remove radiation from the body and contain additional health benefits."
To download this free report, go to http://myhealingkitchen.com/special-report-fallout-foods/.
###