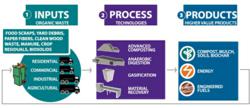 Greenwood Village, CO (Vocus/PRWEB) March 21, 2011
Keating Capital, Inc. announced that it made a $2.5 million investment in the Series B Convertible Preferred Stock offering of Harvest Power, Inc. on March 9, 2011. This investment was part of a $51.7 million Series B financing led by Generation Investment Management, LLP. Other investors in the Series B round include Kleiner Perkins, Waste Management, DAG Ventures, Munich Venture Partners and TriplePoint Capital.
Founded in 2008 and based in Waltham, Massachusetts, Harvest Power acquires, owns and operates organic waste facilities that convert organic waste, such as food scraps and yard debris, into compost, mulch and renewable energy. Harvest Power's recycling operations reduce the amount of organic waste that needs to be landfilled or incinerated. Its existing operating facilities are located in California, Pennsylvania, and British Columbia, Canada. Harvest Power enters into multi-year contracts with municipalities and waste haulers who pay a tipping fee to Harvest Power to accept organic waste at its facilities.
Harvest Power recently announced that it has broken ground on its first renewable energy project, a commercial-scale high solids anaerobic digestion facility, to be built at its Vancouver, British Columbia composting plant. When completed, the facility is expected to produce organic waste-derived electricity that can be sold to the local utility, BC Hydro. The facility is projected to be operational by the end of 2011.
Harvest Power has been recognized with a number of awards including the Global Cleantech 100 by The Guardian/Cleantech Group and the Going Green Top 50.
About Keating Capital, Inc.
Keating Capital is a business development company that specializes in making pre-IPO investments in innovative, high growth private companies that are committed to and capable of becoming public. Keating Capital provides individual investors with the ability to participate in a unique fund that invests in a private company's late stage, pre-IPO financing round — an opportunity that has historically been reserved for institutional investors.
Forward-Looking Statements
This press release may contain statements of a forward-looking nature relating to future events. These forward-looking statements are subject to the inherent uncertainties in predicting future results and conditions. These statements reflect Keating Capital's current beliefs, and a number of important factors could cause actual results to differ materially from those expressed in this press release, including the factors set forth in "Risk Factors" in Keating Capital's annual report on Form 10-K filed with the Securities and Exchange Commission ("SEC") on February 28, 2011, and subsequent filings with the SEC. Please refer to Keating Capital's SEC filings for a more detailed discussion of the risks and uncertainties associated with its business, including but not limited to the risks and uncertainties associated with investing in micro- and small-cap companies. Except as required by the federal securities laws, Keating Capital undertakes no obligation to revise or update any forward-looking statements, whether as a result of new information, future events or otherwise. The reference to Keating Capital's Web site has been provided as a convenience, and the information contained on such Web site is not incorporated by reference into this press release.
###