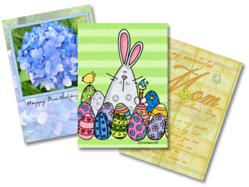 Just a few weeks into the mobile launch and we are already seeing a 36% increase in mobile user conversion rates and a 42% increase in page views per visitor...
San Ramon, CA (Vocus/PRWEB) March 22, 2011
With U.S. consumers flocking to smartphones coupled with mobile retail becoming quite commonplace, GreetingCardUniverse.com has announced today the mobile version of its website allowing shoppers to easily browse and buy paper greeting cards via BlackBerrys, iPhones, Droids, and other smartphones. Combining user friendly mobile access with the largest collection of common and uncommon greeting cards marks the beginning of a new era in the paper greeting card industry now characterized by shoppers being able to buy and send greeting cards on impulse rather than having to wait until they are in front of a computer or at a store.
"To date Smartphone users comprise 3% of our site traffic. We are elated to provide these shoppers a more user friendly shopping experience with the mobile version," states Mindy Rosso, VP of Marketing at GreetingCardUniverse.com. "Just a few weeks into the mobile launch and we are already seeing a 36% increase in mobile user conversion rates and a 42% increase in page views per visitor which are both promising signs. This is just one of many important steps towards our ambitious goal of revolutionizing the age old paper greeting card industry and changing how people purchase and send greeting cards," asserts Rosso.
Optimized mobile access now combined with GreetingCardUniverse.com's important date reminders (via SMS text and email) make idle time productive. In a matter of minutes prompted by important date reminders (holidays, birthdays, anniversaries, etc.) shoppers can select a card, include a personal message, and buy the card for just $3.00 plus postage, printed and mailed via USPS the next business day. Similarly being thoughtful has never been easier. Imagine a friend sharing that her child just lost his first tooth and on the spot from your smartphone sending a "congratulations on losing your first tooth" card to him.
GreetingCardUniverse.com's (http://www.GCUniverse.com) strong suit has always been offering shoppers any card imaginable. With over 450,000 cards created by a global community of over 4,000 freelance artists, shoppers are certain to find what they are looking for and are even delighted to find uncommon cards they didn't know even existed. Shoppers can also request custom cards, at no additional charge, that are typically available within just 48 hours.
"Plans for later in the year include launching a dedicated GreetingCardUniverse.com application on both the iPhone and Android platforms making it even easier and faster to send paper greeting cards right from the palm of your hand," continues Rosso. "We're offering an alternative to virtual communications like ecards, email and even Facebook posts to wish someone well on their special day. Just as convenient for on the go well wishers but we think much more appreciated - the thoughtfulness of a traditional, honest to goodness paper greeting card."
To visit GreetingCardUniverse.com on your smartphone open the browser and type 'gcuniverse.com' in the address bar.
About GreetingCardUniverse.com
GreetingCardUniverse (http://www.GreetingCardUniverse.com) is a division of BigDates Solutions, a private company focused on providing consumers with unique services for special occasions such as birthdays, holidays, and more. Greeting Card Universe is the largest greeting card store in the world in terms of content, offering both paper and digital greeting cards. BigDates Solutions is also the leading provider of online Reminder Service Solutions, powering the gift reminder services at 1800Flowers.com, FTD.com and others. The company also owns Birthday Calendar on Facebook, a birthday application with over 47M users recently relaunched in partnership with American Greetings.
# # #