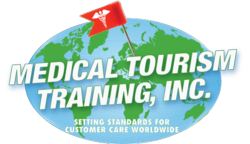 Our objective was to design content-rich, visually appealing courses that are affordable to just about anyone, any where.
Brookline, MA (Vocus/PRWEB) March 21, 2011
Medical Tourism Training, Inc., a US-based company dedicated to delivering on-line, web-hosted and in-person educational programs for individuals interested in or working in the medical tourism sector, announces five new online courses available via its web site http://www.medicaltourismtraining.com. Designed to provide fundamental information and impart skills vital to success in the sector, these courses appeal to a wide audience of industry professionals as well as consumers who may want to learn about international health travel when making decisions about where to receive treatment.
Developed by a team of experienced professionals with backgrounds in healthcare, business, medical tourism, training and law, the affordable and convenient course materials are based on international best business practices as well as their own experience in the sector. The courses – Introduction to Medical Tourism, Basic Medical Terminology, Telephone Skills for the Medical Tourism Professional, Email Etiquette – Netiquette, and Effective Skills for Working with Upset Customers– are available individually or in any combination via the company's web site.
"Online courses provide flexibility for busy people who want to learn in the convenience of their own home or office, at their own pace, when they have the time. It is an easy way for a global audience to access the information, training, and skills needed to succeed in the medical tourism field", said the company's Director of Program Development, Ruth Rietveld-Kirwan. "We are excited to offer these introductory courses to individuals interested in learning more about international medical travel".
These introductory courses are designed for a wide audience including medical travel facilitators; international care coordinators; medical professionals; support staff in hospitals, clinics, private medical and dental offices, spas; travel agents; hospitality professionals; as well as prospective or current medical tourism clients and anyone who is curious about the medical tourism industry.
"Our objective was to design content-rich, visually appealing courses that are affordable to just about anyone, any where. Through the use of audio and video clips as well as a variety of quizzes, individuals can learn essential information and practice skills, bringing a higher level of professionalism to the international health travel sector", said Elizabeth Ziemba, President of Medical Tourism Training. "While we are busy developing additional courses that will be at an intermediate level, our team has created courses that are an excellent introduction to medical tourism".
Medical Tourism Training offers online, web-hosted and on-site training to assist international health travel organizations deliver high quality, customer care centered educational programs. The company's team of experts, drawn from the health, training, travel and hospitality arenas, develops affordable, easy to use programs that clients can access at their own convenience whether at home, office or school. Medical Tourism Training's programs are research-based integrating international standards and best-business practices translated into practical information with a focus on real-world scenarios.
# # #