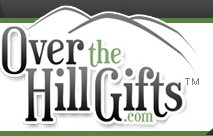 Auburn, NY (Vocus/PRWEB) March 22, 2011
Over the HillGifts.com announced today that it is expanding its channel of 40th birthday presents to include additional consumer alternatives based upon cost. They will discount numerous 40th birthday gifts and expand its offering to include new products.
"Our store specializes in over the hill gifts and milestone birthday gifts," states Lisa Klima, owner of OvertheHillGifts.com. "Customers have asked us continually for more coupons and discounts as they struggle during the recession to find high quality birthday gifts at a more affordable price." "We have analyzed our 40th birthday gifts to determine how to add more low cost products, and which gifts could be discounted further. We have expanded our 40th birthday gift selection by approximately 20%, which is in the best interest of the consumer."
OvertheHillGifts.com has discounted 40th birthday gifts in the following areas:
1) 40th birthday supplies - OvertheHillGifts.com expanded the number of 40th birthday party supplies to additional 40th birthday decorations and other supplies such as 40th birthday confetti, invitations, and 40th birthday balloons. A recent addition is the 40th birthday centerpiece, used for decorating tables at a 40th birthday party. The store offers many lower priced 40th birthday supplies to be more cost effective.
2) 40th Birthday Gift Basket- The ecommerce site has also expanded the number of 40th birthday gift baskets to include consumer choices in all areas and for all gift recipients. For example, they now have a 40th birthday gift basket with coins, for an upscale gift choice, a 40th birthday gift basket for her, which contains gifts tailored toward women, a 40th birthday gifts for men box, which has gifts geared for men. The store also offers a lower priced 40th birthday idea- a personalized 40th birthday time capsule. The 40th birthday time capsule is a group of low cost products that honor the year they were born. The gift has the option of personalization to add a personal touch to the gift. They have also release a lower priced 40th birthday gift basket which contain stamps in an attractive set of coasters from the year the recipient was born.
3) 40th Birthday Shirt- The store added new 40th birthday shirts to its product catalog. They sell a 40 and Fabulous shirt and warm sweatshirt, as well as other funny 40th birthday shirts. The store plans to add additional 40th birthday tshirts later this year. The 40th birthday shirts are available in all sizes from Medium through 2X sizes.
4) Personalized 40th Birthday Gifts- OvertheHillGifts.com added additional personalization options to its gifts to offer personalization to as many products as possible. The most popular 40th birthday gift, the fake newspaper, can be personalized with the person's name, date of birth. Now the store has added the option to personalize the fake newspaper with a message at the bottom of the newspaper for an additional charge. This is popular with gift buyers who want to add "happy 40th birthday", or the recipient's name and a personal greeting to the gift. Another personalized 40th birthday gift is the Day in History print, which allows customers to receive a framed print of everything that happened throughout history for one specific date, e.g. January 2nd. They receive a list of historic events for one specific date and it comes framed in an oak picture frame.
5) 40th birthday gifts for a woman - OvertheHillGifts.com now offers low cost 40th birthday gifts geared toward a woman. For example, they sell a funny 40th birthday gag gift compact that says "Still Sexy at 40?" on the front cover. When opened, there is a quiet wolf call whistle and a giant "Yes" affirmation inside to make the 40th birthday woman laugh. They also sell a 40th birthday gift basket for women, which includes 40th birthday gifts such as a middle age baby book, a coffee mug, 1971 trivia gifts, and 40th birthday music.
6) 40th birthday gifts for a man - The store has included additional 40th birthday gifts for men at a reduced price. For example, the 40th birthday hat which is popular for men is now offered at a lower price. OvertheHillGifts.com also has discounted many of the 40th birthday shirts for both men and women to attract buyers in all price ranges. They also plan to offer lower priced 40th birthday gift baskets in the near future for both men and women.
7) 40th Birthday Mugs- Many of the 40th Birthday mugs have been put on sale and new ones added to the collection. They range from year related mugs to funny 40th birthday mugs. All the mugs are fully microwaveable and dishwasher safe and lead free. There also mugs available for every milestone year. The mugs provide an opportunity for a customer to send a low cost but practical gift.
8) 1970s Candy - OvertheHillGifts.com now offers two types of 40th birthday nostalgic 1970s candy. One type is the full box which has three pounds of candy from the 1970's. Included inside are the all time favorites like Fun Dip, Fancy Southern Pecan Pie, Sky Bar, Gold Mine Nugget Bubble Gum, Jolly Rancher, Chick-O-Stick, Jujubes, French Chew Taffy, Sugar Daddies, Clark's Tea Berry Gum, Red Hots, Pixy Stix, Sweet Tarts, Necco, Mike & Ike's and more. The second type is a lower cost 40th birthday party favor bag which contains fewer pieces of 1970's candy at a lesser cost. The new product choices give customers more choices.
OvertheHillGifts.com is committed to offering the greatest variation of products for milestone birthdays at a competitive price for its customers.
###