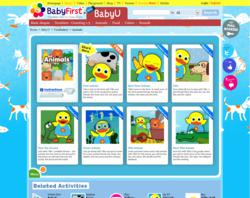 Plimus is the subscription-based e-Commerce expert – and it allows us to focus on putting babies first and providing new opportunities for babies and toddlers as they explore their world."
Fremont, California (Vocus/PRWEB) March 21, 2011
Plimus, the leader in complete, configured, and connected hosted e-Business solutions, today announced that BabyFirstTV.Com has standardized on Plimus as their e-Commerce platform for their recently launched digital product – a subscription service for babies and toddlers aged 18 months to three years.
By utilizing BabyFirst's proprietary 2Key Touch system, even the youngest children can navigate this first website by using just the Space and Enter keys. BabyFirstTV.Com is comprised of three sections designed to enhance the relationship between babies and their parents through fun and engaging videos, content and games. Endorsed by an Advisory Board consisting of respected and renowned pediatric, educational psychology and child development specialists, BabyFirstTV.Com brings the beloved characters from BabyFirstTV to the computer and to Smartphone applications for iPhone and Android. BabyFirstTV.Com is the online companion to the BabyFirstTV network currently available via DIRECTV, DISH Network's basic package and select cable markets.
The BabyFirstTV.Com website uses the computer as a tool to introduce children to basic developmental concepts. Since operation of a keyboard might be difficult for toddlers, BabyFirst has created a first of its kind system that allows young children to move through the games and videos and activities all on their own. Along with Video and Games sections, there is a new BabyU section that is divided into Math, Vocabulary and Art & Music sections. Parents can select which activities and themes to introduce as well as track their child's progress along the way. BabyFirst encourages adult involvement during the introduction of the site to children, as they benefit from the interaction.
Said Sharon Rechter, Co-Founder of BabyFirstTV, "By partnering with Plimus and utilizing the Plimus e-Commerce platform capabilities, we are able to offer parents monthly and annual subscriptions to the full website with a simple and secure online purchase experience. Plimus is the subscription-based e-Commerce expert – and it allows us to focus on putting babies first and providing new opportunities for babies and toddlers as they explore their world."
"We are pleased to have such an innovative and global brand, BabyFirstTV, select Plimus to solve their e-Commerce needs", said Charles Born, Vice President of marketing at Plimus. "Whenever companies are looking for a complete e-Business platform with capabilities to increase close rates and average order value of online sales, they are increasingly turning to Plimus for the critical solutions they need."
About Plimus
Plimus, Inc., is a global e-Commerce solutions provider that builds, and manages online businesses for thousands of software publishers, Web hosting companies, and online retailers. Plimus offers an easy-to-implement, configurable e-Business platform that allows companies to grow their e-Commerce business worldwide by marketing, selling and distributing digital goods and services online. The company's award-winning e-Commerce Application and Buy Anyware API are flexible, hosted, and complete applications that uniquely span the entire e-Commerce lifecycle and are connected to a large global affiliate network. Plimus helps companies and publishers of all sizes maximize online revenues and reduce the costs and risks of running an e-Commerce operation. More information may be found at http://www.plimus.com.
About BabyFirstTV.Com
BabyFirst is a commercial–free, 24/7 network for young children and their parents. Working closely with an extensive network of renowned authorities in every area of early childhood psychology and education, BabyFirst is a trusted, age-appropriate network throughout the world. BabyFirst is currently available to more than 50 million households in 35 countries including the top five U.S. satellite and cable operators. BabyFirst is included in the basic package on Dish Network and available as a premium service via DIRECTV, Time-Warner, Comcast and Charter. BabyFirst is committed to creating a commercial-free, nurturing and interactive environment by offering an ever-changing lineup of quality content. For more info: http://www.babyfirsttv.com
# # #