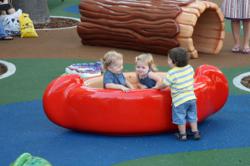 We are teaching even our youngest members about the importance of exercise and good nutrition.
Englewood, CO (Vocus/PRWEB) March 21, 2011
Nine months ago, Life Time Fitness hired Christina Parmley as their National Activities Director. Her first order of business was to help redefine the company's approach to children's programming.
"We want to improve the health of America's kids," says Parmley.
No longer "just" a drop-off child-care service, Life Time's curriculum addresses the importance of good nutrition, exercise and healthy lifestyles – but in a way that kids will embrace. Namely, fun and games!
"Life Time Kids provides fitness and nutrition education in a game-based format," Parmley explains. "It is fitness and nutrition education disguised as fun so that the kids can absorb it faster. Then, once they own the knowledge, we see them transform their lifestyles. They go home and ask their parents if the food pyramid is represented well on their plate, or what their vegetable will be for lunch."
The curriculum is not just geared toward older children. Parmley says that Life Time Fitness's youngest members are being engaged in ways they never were before.
As part of that mission, Life Time Fitness recently installed custom-themed PLAYTIME indoor play area equipment in six of their locations. PLAYTIME is the world's leader in the design, manufacture and installation of unique, interactive soft play equipment.
"The PLAYTIME soft play areas help to stimulate activities, ideas and interaction among the children," says Parmley. "Children just naturally gravitate toward the shapes, sizes and components of a PLAYTIME setup. It provides an enchanted environment."
She adds, "In our child center, we've transitioned over the last year from a child care facility that allowed adult members to work out, go to the spa or have lunch to really becoming an enrichment center. Every 30 minutes, we offer music and movement classes, language, reading, and arts and crafts."
"We are not a babysitting service. We are teaching even our youngest members about the importance of exercise and good nutrition," according to Parmley.
###