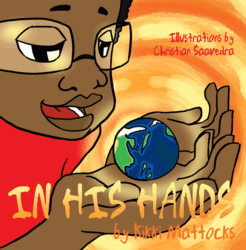 Ideal for children coping with bereavement or body image issues, In His Hands teaches kids that diversity is positive and differences should be celebrated.
Smyrna, GA (Vocus/PRWEB) March 22, 2011
Many of us grew up hearing we have our mother's eyes, our father's smile. Physical similarities do link us to our parents, but they're only skin deep. What parents genuinely care about passing down to their children are values of kindness, respect and self-worth. In her bittersweet new children's book, In His Hands (published by AuthorHouse), Kikki Mattocks tells the story of a little boy who is ashamed of looking like his father but learns to take pride in the resemblance while he courageously copes with grief.
At 8 years old, Brian can remember the first time he ever got teased about his unusually large hands. He cried, weeping tears of shame and embarrassment at his supposed abnormality, a characteristic inherited from his father, a good-natured pastor who took pride in his capable hands and gave thanks for the strength and ability they provided him to carry out God's work.
As time passed, Brian only grew more self-conscious about his extraordinary extremities. Winter came, and gloves only seemed to make his hands look even bigger, so Brian avoided wearing them and kept his hands in his pockets whenever possible. His lack of confidence gave him an awkward demeanor, and he hated the feeling of loathing himself so deeply.
That same winter, Brian's father got very sick and had to spend time in the hospital. The doctors finally sent him home, but it was clear that he was still unwell. Brian's mother calmly went about caring for her son and husband, showing no outward signs of worry and trying to keep every day as normal as possible.
When Brian was 10 years old, his father passed away. All the distraught boy could do was cry and wonder why it happened. Remembering his father's advice to turn to prayer in times of need, Brian knelt down to repeat his question earnestly: "Why did you take him from me? I don't understand."
Later that night, after thinking about all of the things he loved doing with his father, Brian realizes that memories would help keep his father close to his heart, and he looks down at his hands. Suddenly, he's no longer disgusted by the sight of them – in fact, he's happy, because they remind him of his father.
Featuring vivid illustrations by Christian Saavedra and simple text, In His Hands is targeted towards readers aged 5-8. Finally, a children's book draws attention to issues of self-esteem in boys and touches on the struggles and confusion related to death. Ideal for children coping with bereavement or body image issues, In His Hands teaches kids that diversity is positive and differences should be celebrated.
About the Author
Kikki Mattocks has been a New York-based flight attendant for a major U.S. carrier for the past eight years. She is passionate about her writing and draws inspiration from everyday life. She earned her bachelor's degree in Spanish from The University of North Carolina at Chapel Hill and currently resides in Smyrna, Ga.
For more information, please visit http://www.kikkicrumbs.wordpress.com.
AuthorHouse is the leading provider of self- publishing, marketing, and bookselling services for authors around the globe. For more information, visit http://www.authorhouse.com.
EDITORS: For review copies or interview requests, contact:
Marketing Services
Tel: 888-519-5121
Fax: 812-961-3133
Email: pressreleases(at)authorhouse(dot)com
(When requesting a review copy, please provide a street address.)
###