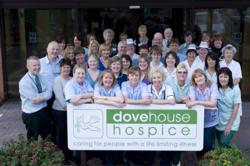 We would hope that the Council cuts do not disproportionately hit the weakest and most vulnerable in the community who can least afford to cope.
(Vocus/PRWEB) 23 March 2011
Last month it was announced that 1,300 council workers, children, the elderly and vulnerable are to bear the brunt of savage cuts of £70 million.
Now staff at Dove House Hospice have revealed that, in addition to the loss of key grant funding, the hospice will be charged for the waste and recycling of items donated by the public, as well as incurring 8% increases on existing waste contracts.
Andrea Beer, Director of Income Development at Dove House Hospice, explains:
"Many people provide donations to our shops in good faith. We are extremely grateful for this and frequently make house collections.
"Of course, there are some items that we cannot sell for a number of reasons, such as damage or trading regulations, and we have many wonderful volunteers who sort out these goods. This prevents a larger number of items going to the household waste disposal sites, which helps the council to reach waste and recycling targets and raises valuable funds for our charity.
"Previously, there was no suggestion that Dove House would be charged for this service but now, by our own estimation, we expect to be charged somewhere between £50,000 and £70,000 per year.
"Obviously this will have a significant impact upon the charity, which on the whole is funded by the generosity of local people. We are now assessing what we can and cannot accept from the public so that we are not using money raised to dispose of waste, rather than to care for patients and their families."
In a further development, Dove House Hospice has been informed that annual grant funding has been withdrawn by the council, resulting in the loss of a full time social work post. This will have a significant impact on how the Family Support Team is able deliver its services, especially to families in the community.
Director of Clinical Services, Anna Wolkowski said:
"It is difficult to see how the withdrawal of this funding could make any sense at all to the public particularly bearing in mind that the service is unique, cannot be accessed anywhere else locally, and meets the needs of some of the most deprived areas of the community."
Chief Executive at Dove House, John Fenwick said:
"Over the years, Dove House has brought comfort and support to patients and their families, using the most innovative and creative approaches to ensure each individual receives the treatment and help that best suits their needs and circumstances.
"In that time, the hospice has become a leader in its field, providing the latest practices, specialist knowledge and, above all, the warmth and commitment to create 'a home from home' for patients and their loved ones. We would hope that the Council cuts do not disproportionately hit the weakest and most vulnerable in the community who can least afford to cope."
Dove House Hospice opened in 1983 and has become a core part of health provision in the region, with the specified aim of helping patients and families live life to the full.
Offering care facilities to improve quality of life, it provides a day care unit and inpatient unit as well as providing support for families out in the community. It also offers a wide range of complementary therapies.
Dove House does not charge for its services. However, it only receives statutory funding from the local NHS Primary Care Trusts for 81 days a year, meaning it has to rely on financial donations, fund-raising events and public donations to raise around £3.4m every single year to meet the £5m running costs of the charity.
Ends
###