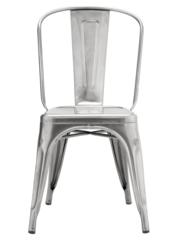 Stamford, Conn. (Vocus/PRWEB) March 21, 2011
Design Within Reach, Inc., today announces exclusive rights as the provider of authentic Tolix furniture for North American contract sales, which includes the exclusive distribution rights on the sale of Tolix to hospitality, corporate, educational, health care, and institutional design customers.
The agreement follows the launch of the perforated Marais Collection of chairs and stools, a modern series of the company's traditional galvanized steel designs. Conceived by Tolix President Chantal Androit, the perforated Marais Collection is fabricated from perforated steel and available in four colors (mint, white, plum, and gunmetal gray) and four styles from Design Within Reach.
"We are extremely proud to partner with French brand Tolix," said John Edelman, President and CEO of Design Within Reach. "Its widely recognizable chairs and stools have been furnishing French homes and businesses for more than 70 years, and its iconic A Chair is widely considered to be the café chair in France. As the exclusive provider of Tolix furniture for contract sales in North America, we look forward to expanding its presence."
Tolix, founded by French metalworker Xavier Pauchard, pioneered the use of galvanized steel in furniture manufacturing with its introduction of the A Chair in 1934. Upon his death in 1948, Pauchard's son Jean took over as managing director and continued to produce complementary designs until 2004, when Chantal Androit stepped in. Since her arrival, the Tolix brand has experienced a revival, in both new product designs and an increase in exports to the U.S.
Design Within Reach, Inc., founded in 1998 and headquartered in Stamford, Connecticut, is the source for the best in modern design. The company markets and sells its furniture and accessories to both residential and contract customers through its retail Studios in the United States and Canada, dwr.com and its Connecticut-based phone sales team at 1.800.944.2233.
For additional images and information contact Sarah Gould at pr(at)dwr(dot)com.
# # #