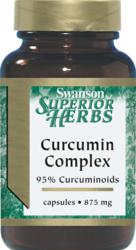 Swanson Superior Herbs Curcumin Complex receives and "Approved" rating from ConsumerLab.com.
Fargo, ND (Vocus/PRWEB) March 22, 2011
ConsumerLab.com recently conducted a review of turmeric and cucrumin supplements. Not only did Swanson Health Products' Swanson Superior Herbs Curcumin Complex receive an "Approved" rating, it also received the distinction of "best value." To determine value, ConsumerLab.com evaluates the amount of a particular ingredient in the supplement at the lowest cost.
Curcumin (the major component of turmeric) is known for its health benefits, powerful antioxidant capabilities as well as a culinary spice. As a spice, turmeric has a sharp taste and is used mainly in curry powders, yellow mustards and in some cheeses.
ConsumerLab.com tests primarily for quality determined by:

Labeled amount: the supplements are reviewed to verify that products contain the amount of curcuminoids as listed on label;
Purity: the supplements are tested for contaminants such as heavy metals; and
Ability to disintegrate: the supplements are evaluated to verify that once consumed, they will break down properly and release the contents of the supplement.
An "Approved" rating from ConsumerLab.com is a testament to the quality of Swanson Superior Herbs Curcumin Complex—it is standardized to 95% of total curcuminoids. The supplement review also noted the enhanced bioavailability of the Curcumin Complex supplement because it features Bioperine, which more than doubles the bioavailability to optimize absorption.
Swanson Health Products is an industry leader in bringing vitamins direct to consumers at the lowest prices possible. Swanson Health Products, headquartered in Fargo, ND, offers the highest quality vitamins, supplements and natural health care products and is Good Manufacturing Practices certified. Swanson Health Products goes a step beyond its competitors by offering powerful guarantees. All products are backed by a 100% Satisfaction, Money-Back Guarantee and Double the Difference Lowest Price Guarantee. For more information, please visit swansonvitamins.com.
###