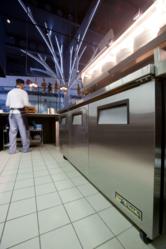 The range is very flexible
(Vocus/PRWEB) 23 March 2011
In the heart of Covent Garden, the popular new Zizzi Central St Giles sets out to recreate the atmosphere of an authentic Italian piazza. Inside the restaurant is a beautiful illuminated porcelain tree with ceramic vine and the weekly Zizzi Sessions showcase musical talent. The surroundings match Zizzi's commitment to food that combines passion and flair, freshness and authenticity. To help preserve the high level of food quality they require, Zizzi is using True refrigeration.
The True cabinets at Central St Giles are TSSU prep counters. "The range is very flexible," says Rose Brunt, head of external communications at Zizzi. "Not only is there a good selection of different sized models, but also their ingredients pans can be configured in a variety of different ways. That means we can tailor them to the requirements of the site.
"But the critical factor is temperature control – the temperatures are very consistent, throughout the cabinets and the ingredients wells, so they maintain food quality really well." The temperature control is down to True's use of heavy-duty refrigeration systems – evaporators, fan motors, compressors and condensers are all typically up to 20 to 40% bigger than the industry standard. The extra power means temperature pull-down and recovery times are very fast.
At Central St Giles most of the True prep counters are sited beneath work-tops with cut-outs so that staff can easily access the ingredients pans. True has also supplied some with granite worktops at other Zizzi locations. In standard 'curtain of air' systems, air is blown across the top of ingredients wells, which has a tendency to dry out the contents. In the True counters air is blown on to the pans themselves, the big benefit being that they maintain temperature without compromising food quality.
The Zizzi group is committed to energy efficiency, sustainability and reducing environmental impact. As a result of their larger refrigeration systems, True's products score highly here, too. Because their extra power means they pull down to temperature more quickly, their run time is up to 30% less than the industry standard. That saves energy and means the system lasts longer – hence True's unprecedented five-year warranty on its compressors.
"True gives us a 'green' refrigeration solution that delivers on flexibility, performance and consistency too," says Rose Brunt.
The True Refrigeration range is available through dealers across the UK and Ireland. For more information visit http://www.truemfg.com or call True UK on +44 (0) 1709 888888.
For more news about True visit the press office at http://www.publicityworks.biz
Editor's Notes
True TSSU prep counters are available in five different standard sizes offering capacities from 184 to 538 litres. The ingredients wells can accommodate gastronorm containers up to 1/3 depth (one third) GN. Their flexible pan configuration means they can accept 1/3, 1/6 and 1/9GN pans. The smallest unit will hold up to eight 1/6GN pans, the largest up to eighteen. All True Prep Counters are supplied with a full compliment of 1/6GN pans included.
True offers a wide variety of options including granite work tops and a 'Mega Top' that increases the worktop area or allows an extra row of ingredients pans.
This is True: True is a market-leading supplier of quality commercial refrigeration. Founded over 60 years ago in Missouri, USA, True now flourishes around the world – because its units are designed to offer the best environment to store caterers' food products.
True UK is based in Goldthorpe near Rotherham, South Yorkshire. Alongside extensive warehousing the head office includes the UK's most advanced refrigeration testing facilities.
Sustainable manufacturing: Over the past ten years True has reduced its total water usage by 58% and reduced CO2 emissions by 142,000 metric tonnes – the equivalent to taking 23,500 vehicles off the road each year. True recycles 98% of all materials.
# # #