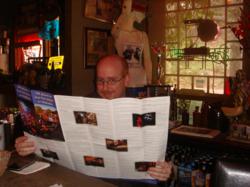 Montgomery, AL (Vocus/PRWEB) March 23, 2011
A Rattlesnake Saloon, an antique store and a red train caboose provide unique, offbeat music venues for visitors to experience during the Year of Alabama Music.
The Alabama Tourism Department has compiled a list of more than "100 places to hear live music," but the dozen places below are not typical music venues and include juke joints, honkytonks and neighborhood hangouts. These places offer up several genres of music from country, bluegrass and blues to pop, rock, and jazz.
Peerless Saloon — Anniston
Called the "Oldest Little Rockin' Saloon" Peerless is located in historic downtown Anniston and is listed on the U.S. Register of Historic Places. It was built in 1899, was home to a brothel and still has a turn-of-the-century bar. Visitors can hear live music Thursday through Saturday nights. Jam night is Thursday while local and regional bands play Friday and Saturday nights. 256.237.1899.
Gip's Place — Bessemer
An authentic juke joint with live blues performed in the backyard of Henry Gipson's home that sits beside the big curve along the 3100 block of Avenue C in Bessemer. Gipson is a gravedigger by day and a musician at night. For more than 50 years some of the best blues musicians have been performing in Gip's backyard. There is no exact schedule, only most Saturday nights, which is part of the charm of this juke joint.
The Bottletree — Birmingham
A live music venue, electic arts haven and restaurant in the Avondale neighborhood with bottle trees on the front porch and the side patio. Esquire magazine called this eclectic café "a place that is already stealing thunder from every small music venue in the region." It also serves as the location of the TV music program "We Have Signal." Bands perform on a small stage with velvet art hanging on the walls. Visitors can check out the schedule of bands performing at http://www.thebottletree.com. 3719 Third Ave. S., 205.533.6288.
The Garage — Birmingham
Named by GQ magazine as one of the "World's Best Places To Fly To," The Garage has a delightful split personality. By day, its lush, enchanting courtyard brimming with eclectic antique decorations for sale is a prime spot for antiquing. At night, a friendly neighborhood pub comes to life, often with live music. 2304 10th Terrace S., 205.252.1515, http://www.garagecafe.us.
Rattlesnake Saloon — Colbert County
Once a Native American Bluff now sits the Rattlesnake Saloon built in the shadows of a cave just past the Seven Springs Lodge in Tuscumbia in Colbert County. Bands perform Thursday-Sunday11 a.m. to 10 p.m. 1292 Mt. Mills Rd, Tuscumbia, 256.370.7218.
The Red Caboose — Elkmont
Nashville song writers perform Saturday nights twice a month in charming, historic Elmont at the Red Caboose. 256.306.6201.
The Smokehouse Billiards and Grill — Florence
This pool hall, dating back to 1890 with six original Brunswick pool tables, offers live music nightly. Breakfast, lunch and dinner are served daily, and patrons can have their shoes shined while eating their chili cheeseburger. 118 East Tennessee Street, 256.764.0101.
Fred's Pickin' Parlor — Loachapoka
An old feed & seed store in Loachapoka, just outside Auburn, is now the location for live music jam sessions on Thursdays and live local bands on Friday and Saturday nights. 334.502.6602.
Blues Tavern — Mobile
Considered Mobile's only Blues Room, the Blues Tavern offers live music every Wednesday through Sunday. Visitors can listen to blues music most of the time, but other music on occasion. 2818 Government Blvd., 251.479.7621.
Sous-La-Terre — Montgomery
Montgomery jazz and blues keyboard musician Henry Pugh has been playing for the late night crowd for years in this underground jazz club on Commerce Street. Look for the stairs leading to the basement to enter the club that opens weekends at midnight. LaSalle Bleu operates at the same location, on the ground floor and is open most Thursdays. Opens for live jazz and blues music every Friday and Saturday at 11 p.m. 82 Commerce Street downtown, 334.265.2069
Flora-Bama — Orange Beach
The Flora-Bama has been a cultural landmark on Alabama's beaches since 1964. It's located right on the Florida and Alabama line on Highway 292 & 182, and is touted as being America's "Last Great Roadhouse." The Flora-Bama takes its name from its legendary location on the Florida – Alabama state border line. 251.980.5118
Tacky Jacks — Orange Beach
This grill and tavern on the back bay features live music Thursday-Sunday nights starting at 6 p.m. Patrons can enjoy great views from the outdoor deck of this small off- the-beaten-path venue. 251.981.4144.
###