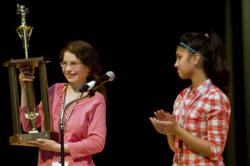 Philadelphia, PA (Vocus/PRWEB) March 21, 2011
Lena Greenberg, 13, a home-schooled student, here, won first-place honors at the recent 17th Annual Scripps Regional Spelling Bee competition, hosted at Microsoft's School of the Future, in West Philadelphia, in front of more than 800 spectators. The contest ran for four hours, lasting 28 rounds, and included 156 fifth-through-eighth-grade students, an increase of 50 percent, as compared to last year's participation.
The first runner-up, Varshita Parmar, an eighth-grade student at CCA Baldi Middle School, in Northeast Philadelphia, was eliminated after misspelling the word "GNOSIS." Both, Parmar and Greenberg, were finalists in 2010, finishing as first and second runners-up, then. This was also Parmar's third appearance in the regional final. For placing first in the competition, Greenberg will receive a new IBM computer, and has earned the chance to compete at the Scripps National Bee in the Washington, D.C. area, June 1-2, 2011. Transportation and expenses for the national bee are underwritten for the winner and her guardian, by the event sponsors.
The regional bee was open to all fifth-through-eighth-grade students attending Philadelphia private, public, parochial, charter or home-school organization affiliates. To qualify for the competition, students were chosen by participating schools or won their school's own spelling bee.
Prior to the start of the regional spelling bee, 76 fifth-grade contestants participated in the "Fifth-Grade Spell Down," a preliminary competition, wherein the best fifth-grade spellers in the City competed against one another, with the winner advancing to face 80 sixth-through-eighth-grade students. The "Spell Down" champion was Malak Abuhillo, 11, of John Moffett Elementary School, in North Philadelphia, but she was later eliminated in the regional final.
The Scripps Spelling Bee is the nation's premier youth-oriented academic event that aims to promote literacy. It is also designed to allow children to show off their language skills, while having fun in the process.
The competition was sponsored by the Philadelphia Tribune, the nation's oldest and the Greater Philadelphia region's largest newspaper serving the African-American community, and Keystone Mercy Plan.
The Philadelphia Tribune has sponsored and presented the Scripps Regional Spelling Bee Competition since 1994. The paper has received two "Community Service" awards from the National Newspaper Publishers Association (NNPA) for its participation in the event.
###