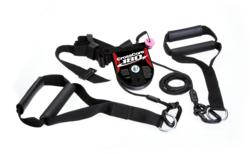 CrossCore, Inc. is helping America get fit physically and financially with their new "Help America Move" affiliate program that promotes American Made products.
Duarte, CA (Vocus/PRWEB) March 21, 2011
CrossCore, Inc. is helping America get fit physically and financially. CrossCore's new affiliate program will provide all participants with an opportunity to earn a fixed commission from all qualified sales of the CrossCore180 and War Machine Suspended Pulley Trainers. Both products are proudly Made In The USA and promote fitness to young kids, fitness enthusiasts and athletes alike.
Internet affiliate programs are booming and anyone that has a website can just sit back and watch the money keep rolling in. CrossCore affiliates earn a generous commission and get paid monthly. The CrossCore affiliate program is currently available within the US and has plans to expand globally in the coming months.
Set up is simple and CrossCore provides affiliates with their very own, exclusive banner and code for posting on their site. The affiliate code is used for tracking the volume and amount of sales generated by each affiliate. CrossCore handles the order entry, payment processing, warehousing, shipping and related customer service inquiries. Additional details for the CrossCore affiliate program can be found on the CrossCore site.
America has to get moving and the CrossCore180 and War Machine are both made right here in the good old USA. The US Military, professional athletes and Mixed Martial Arts fighters are currently using them and getting amazing results. With 68 percent of adults and 33 percent of all children over weight this is a good way to get American bodies and manufacturing moving again.
Crosscore Inc. is located in Duarte, CA and its primary focus is the manufacturing of innovative and mobile fitness equipment products along with educational courses for all fitness and sports levels.
If you'd like more information about the CrossCore180™ and War Machine® by CrossCore, Inc. go to http://www.crosscore-usa.com or contact Jay Wilson at jay(at)crosscore-usa(dot)com
###