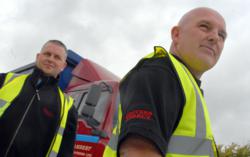 we are pleased with what we've achieved in the first six months of operating, not least as we are now on the list of preferred suppliers for these clients."
Kent (Vocus/PRWEB) 21 March 2011
Kent's Drivers Direct franchise has quickly established itself as a force to be reckoned with in the industry after becoming a preferred supplier for its clients, which include some of the major players in the retail and home delivery sectors.
The Ashford-based team of Vic Hawthorne, Kelly Bates and Danny Moczulski have a wealth of industry experience and are looking to grow the business further in 2011 after making a strong start.
And with recent figures showing that 60 per cent of all road haulage companies are struggling to fill vacancies, Mr Moczulski said Drivers Direct's success in providing quality highly trained drivers for its clients ensured it was able to meet this increased market demand.
Mr Moczulski said: "We've built the business up from a standing start last August and are now supplying a significant number of drivers on a daily basis to clients, including household names in the retail and home delivery sectors. As I say, from a standing start, we are pleased with what we've achieved in the first six months of operating, not least as we are now on the list of preferred suppliers for these clients."
Vacancies for HGV drivers increased to 25,720, up from 11,041 in 2009, and from 17,344 in 2007. And van drivers increased from 7,000 last October up to 10,193 this year.
Mr Moczulski added: "We have established ourselves in the area and our customers have said they're impressed with the calibre of the drivers we provide as well as the vetting procedure we have in place to ensure they receive the best possible service. The state of the economy and increasing fuel prices will no doubt continue to present us with challenges but looking ahead, our aim is to push on in 2011 with anticipated growth."
###