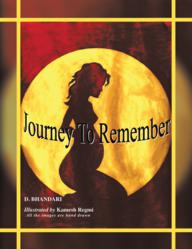 "I will take you on a special journey, a journey you went through not so long ago, but probably do not remember anything about," Bhandari begins.
Sunnyside, NY (Vocus/PRWEB) March 23, 2011
A mother recalls the experience of pregnancy and the emotional and physical changes that it brings, sharing her story with young readers curious about what those nine months were like for their own mother in A Journey to Remember (published by AuthorHouse), the colorful new children's book by D. Bhandari with illustrations by Kamesh Regmi.
"I will take you on a special journey, a journey you went through not so long ago, but probably do not remember anything about," Bhandari begins. Indeed, many of us at some point found it hard to believe that we came into the world from inside our mommy's body, so A Journey to Remember is a welcome resource for mothers looking to explain the ups and downs of pregnancy to inquiring little ones.
With colorful illustrations and simple text, A Journey to Remember is appropriate for elementary-age children and is comprehensive in covering the entire span of pregnancy, from early symptoms like nausea, to a mother's joy at finding out she is expecting, to the months of physical, emotional and other changes, answering children's questions without graphic detail or overly vivid descriptions. Today's technology even gives the opportunity for mothers to share things like ultrasound pictures with their children as they read through the book together. Bhandari writes:
One day your mother visited her doctor and he did a full medical check-up. Your mother even got to see you for the first time through an ultrasound machine. It was very exciting for her to see your image and learn that you were healthy.
Weeks turned into months, and you had grown much bigger and by now the time for your birth was nearing. You quickened inside your mother's womb and moved your limbs from time to time.
Honest, true-to-life and filled with reassurances of a mother's unconditional love for her child, A Journey to Remember is ideal for families expecting a new sibling for their children and is a particularly unique resource for single mothers with its focus on a woman's choice to have a baby on her own. Bhandari offers a much-needed voice for independent mothers everywhere in this unparalleled new book.
About the Author
D. Bhandari was born in Nepal. She has been a social worker for many years and is actively involved in numerous charitable organizations. She is the recipient of numerous awards for her speaking engagements and literary endeavors and currently resides in Sunnyside, N.Y. Bhandari is also the author of Growing Wings: Parrot's Day Out (also published by AuthorHouse).
AuthorHouse is the leading provider of self- publishing, marketing, and bookselling services for authors around the globe. For more information, visit http://www.authorhouse.com.
###